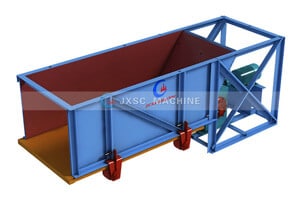 Chute Feeder is a kind of reciprocating feeding equipment with a tank bottom plate. It is also a kind of feeding equipment used earlier in ore storage tank discharging. The mine feeder can be mounted under the discharge opening of the silo or mounted on the ground. Trough feeder is widely used in metallurgy, chemical industry, coal, mine, water conservancy, and hydropower engineering, etc.
Capacity: 10-90 T/H
Feeding Size: 0-350 mm
JXSC Chute Feeder Advantages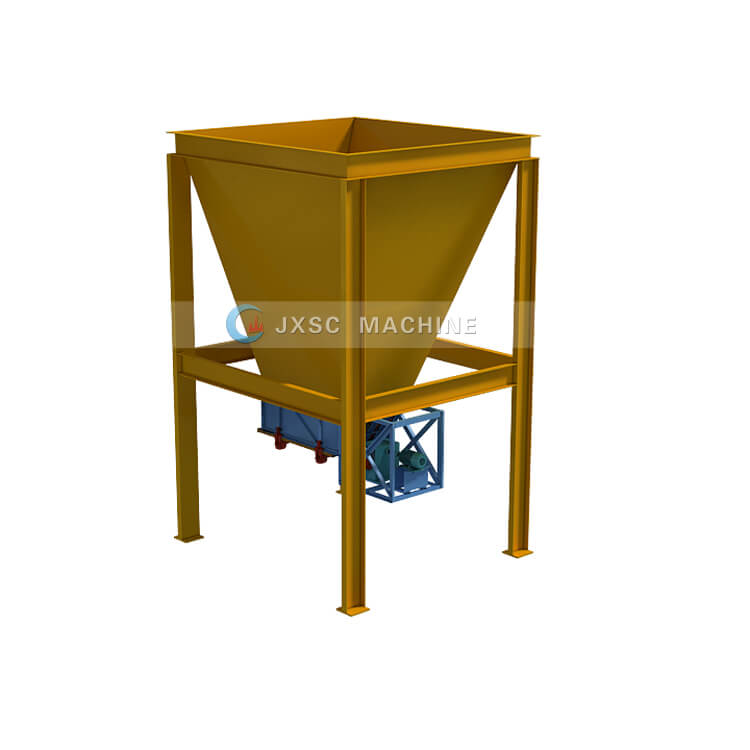 From the experience of the concentrator, it is known that the eccentricity of the chute feeder should not be less than 30mm for the viscous ore. The width of the trough is about 2-2.5 times the maximum grain size of the feed. The largest mining trough feeder can meet the size of less than 500 mm iron ore feed.
Simple structure, uniform feeding.
Flexible installation.
Easy to operate, change and control the flow at any time.
The eccentric block is an exciting source with low noise and low power consumption.

The removable bottom of the chute feeder is flat and the working principle is very simple. The motor drives the eccentric wheel, and the connecting rod moves with the eccentric wheel. The connecting rod pulls the bottom plate on the roller to do the reciprocating movement, thus achieves the even feeding goal.
The ore trough feeder is provided with an adjustable gate that can control the height of the material layer. Feed plate movement has back and forth moving, jitter and swing, etc. The transmission mechanism is a crank-rotary type.
Specification of Trough Feeder
Model

Entrance size

Exit size

Swinging

Swinging frequency

Max Particle

Productive capacity

Motor

Weight

(mm)

(mm)

(mm)

(mm)

size(mm)

(t/h)

(kw)

(kg)

600*500
600*500
600*500
10-50
38.9
200
10-50
4
1054
980*1240
980*1240
900*800
20-50
23.7
350
36-90
7.5
1676
JXSC Other Series Feeder Machine