JXSC GP cone crusher is often used as the secondary and tertiary crusher in stone crusher plant. It can be an excellent replacement for a gyratory crusher. The brilliant design makes it with high power level and crushing capability, and stable performance through optimized wear parts. The optimized design and superior quality components of crushers make the equipment easy and safe to use and maintain. GP is short for single-cylinder hydraulic.
Application Field:
Quarry, mine, building material processing plant, aggregate, construction, recycling, gravel/sand, etc.
Suitable Material:
Cobble, granite, basalt, iron, limestone, quartzite, diabase, iron ore, gold ore, copper ore, etc.
Features of JXSC GP Cone Crushers
1 Low production cost
Incorporating with rich experience in wear part design, the cone crusher machine maximum the liner service life to reduce the cost of worn parts. Besides, the automation system can inspect the conditions of the working cavity, wear part regularly. Automatically respond to it which can save valuable time for you.
2 Automation and versatility
By adjusting the stroke feature to cooperate well with other machines in the crushing circuit. The same crusher machine can be used in different crushing stages to do different reducing tasks. In addition, with a wide selection of cavities, the operator can set the GP cone crusher to attain the optimized working condition and efficiency. Various automatic working modes greatly decrease the operation difficulty that operation friendly machine.
What's more, the Nordberg crusher has a great advantage that is able to work in various crushing stages and sites, from coarse crushing to extra fine crushing, and from a specific location to a mobile site.
3 Stable and effective performance
Effective crushing cavity design does a great favor of reducing abrasion on the liner, feed opening and other material contacting points. This prolongs the part service life and enables stable crusher.
What's more important, the GP crushers can be adjusted to with a large feed opening thus increase the crushing capability and used as a primary crusher. Our GP conical crusher is a good replacement of an old Symons cone crusher.
4 Easy installation and maintenance
The patented piston design enables the GP series with low and ease of installation cost. There is only a support base and conveyors needed, which make the GP with powerful advantages have been popular in mobile applications.
Famous cone crusher manufacturers have Nordberg, Symons, Metso, Sandvik, etc. We provides valued customers with machines installation, wear part replacement, repair and maintenance, crushing plant design and optimization and so on service.
Nordberg GP Series Cone Crusher- satisfying all your reducing demands
After decades of continuous breakthrough and innovation, the GP cone crushers have been an efficient, reliable, safety, economic secondary or tertiary crusher which can reduce the material to the required size.
JXSC Mining Machinery Factory, a Chinese technology and knowledge manufacturing company in the rock crushing industry who improved the Nordberg GP cone crusher series to satisfy all customers' material reducing requirements. Incorporating the practical experience and advanced concept, the JXSC produced Nordberg crushers are provided with high crushing performance and low cost and are qualified to crush rock material in mining, aggregate, construction, and other many industries. Contact us to discuss in detail with our  R&D engineers.  All types of cone crusher:  Spring cone crusher/ compound crusher, hydraulic cone crusher, single cylinder cone crusher, Multi-cylinder.
GP Cone Crusher Components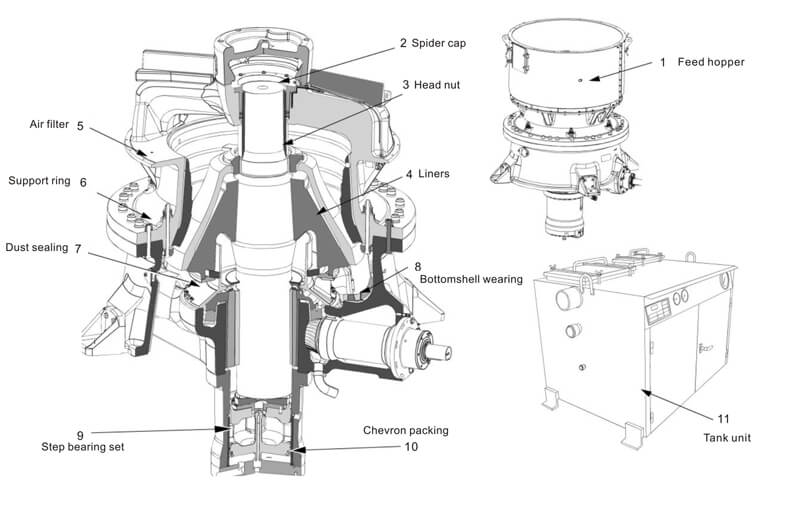 Cone Crusher Parts:
Feed hopper
Spider cap
Head out
Liners
Air filter
Support ring
Dust sealing
­Bottomshell wearing
Step bearing set
Chevron packing
Tank unit