Application Field
Dry powder mortar, concrete mixing station, power plant desulfurization, quartz sand, etc.
Suitable Material
Pebble,granite, basalt, iron ore, limestone, quartz, diabase, etc.
What is an Impact Crusher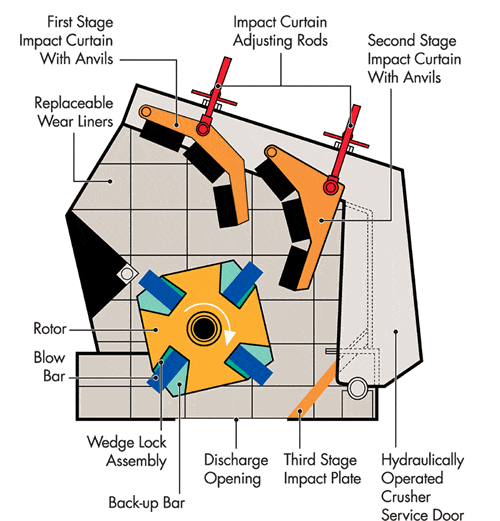 Impact crushers used the impact of crusher material, not pressure. The equipment is suitable for mining, metallurgy, cement, building materials, chemical industry, water, and electricity, etc. The vertical shaft impact crushers and horizontal impact crushers are two types of impactors.
Horizontal shaft impactor (HSI) crushed stone by impacted stone with hammers which fasten to the spinning rotor. Vertical shaft impactor (VSI) makes use of the speed as a major force to crushing rock.
Our company rock impact equipment with high chromium plate hammer, distinctive impact lining and adopted domestic and international advanced technology. So the row particle size can adjust, the process is simple, and more hard rock also can crushers.
The Working Principle:
Impact stone crushers machine use of impact on broke material. When it working, the rotor high-speed rotation with the motor-driven. The material into the crusher, impact the rotor plate hammer and broken. Then it is back to the lining plate broken again, finally discharged from the discharge port. The user can adjust the clearance between the back frame and the rotor frame, change the material grain size and shape. (see video)
Performance characteristics:
1. A novel structure, unique, stable operation, multi-cavity uniform broke, suitable for crushing hard rock.
2. Low energy consumption, high yield, high crushers ratio, for general 10-20, high up to 50-60.
3. With the shaping function, the product is cubic shape, high packing density, adjustable discharge size, simplified broke process.
4. All the whole plate structure to discharge is small size and cubic, no inner crack.
5. The feeding port is low and big, easy to arrange production line and increase the feed size.
6. Impact break equipment use of new wear-resistant material, so the plate hammer, impact plate and lining board has a longer service life.
7. Easy to use and maintain, can be used as selective crushers.
8. Unique tooth type impact lining board of impact crusher parts, especially suitable for crushing hard rock, high efficiency, and energy-saving.
Difference between jaw crusher and impact crusher
1. Different Structure
The structure of jaw crushers is simple so that it is easy to manufacture. But its performance is reliable, and the maintain not complicated. Often as primary crusher and secondary crusher for rock.
Impact crusher is new broke equipment with high efficiency. All characteristics of the machine are small in size, simple structure, big crushing ratio, even product granularity, large capacity and costs little.
2. Applications
The jaw stone crushers are widely used for medium hard rock and ore primary crushing and secondary crushing in the industry of mining, metallurgy, cement, building, refractory materials, and ceramics, etc. The compressive strength was less than 320 MPa.
The impact crusher is widely used for sand and rock fine crushing in the industry of roads, railways, reservoir, electricity power and building materials and so on. And the compressive strength less than 350 MPa.
3. Working Principle
Jaw rock crusher does cyclical movement by swinging jaw to crusher rock. But impact stone crusher use of impact on broke material. When it working, the rotor high-speed rotation with the motor-driven.
All in all, the jaw and impact crushers equipment use with each other in stone plant and sand making plant. The jaw broke rock materials first, then impact crusher again. Jaw rock crushers is an indispensability main machine for rock plants, mill plants, and quarry crushing plant. The application is more widely than impact, but without the functions of impact crushers.