Hammer Crusher Application Field
Mining, metallurgy, building material, cement, quarrying, gravel & sand making, aggregate processing, recycling, and chemical industry, etc.
Suitable Material
Limestone, slag, coke, coal and other materials in the secondary crushing and fine crushing operations.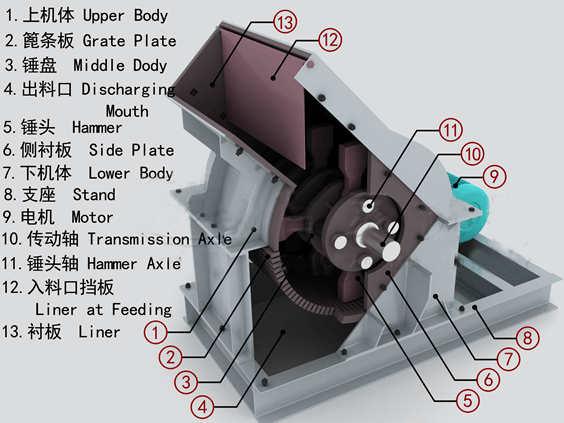 Hammer stone crusher is a kind of equipment which crushes materials in the form of impact. Crushing the size of 600-1800 mm material to 25m or less. Hammermill machine can not only be used in stone crusher plant, sand plant, but also can replace the cone crusher in the mineral processing.
JXSC hammer mill crushing that hammerhead adopts a new technology cast which wear-resistant and impact-resistant. The airframe structure of the hammer mill is seal which solves the problems of dust pollution and dust leakage in the crushing workshop. And it is easy to maintain.
Types of hammer
The hammer rock crusher is divided into single-stage Hammer crushers, high-efficiency Hammer crushing, vertical shaft hammer mill machine, reversible hammer crusher, ring hammer crusher, swing hammer crushing.
According to the number of rotors, divided into the single rotor and double rotor two categories.
According to the rotor rotation direction, divided into irreversible and reversible two types.
According to the arrangement of the Hammer, divided into the single-row type and multi-row type two categories. The former hammer machine is mounted on the same rotary plane, while the latter mining hammer is distributed on several rotary planes.
Hammer Crusher Working Principle
Hammermill crusher mainly rely on impact energy to complete the crushing of materials. When the hammer mill crusher works, the motor drives the rotor to rotate at high speed, and the material enters the crusher cavity evenly. The hammerhead with high speed turns impacts and tears the material lead to the materials are crushed.
At the same time, the material from the high-speed rotating hammerhead to the baffle and screen strip in the frame under the gravity effect. The material larger than the size of the screen hole remains on the screen plate and continues to be hit and ground by the Hammer. Then finally through the sieve plate discharge machine until the crusher material size discharge.