The mobile crusher is a new originality rock crushing equipment. It has mobility compared to other crushers machine. So it solves the problem of limiting crusher place and environment. And the equipment provides an efficient, low-cost and portable stone crusher plant.
The mobile stone crusher plant is mainly used for metallurgy, chemical industry, building materials, hydropower and other materials that often need to be moved. Especially for the operation of crushed stone such as highways, railways, hydropower projects. The tyre crushing machine and tracked crusher are two types of portable crushing.
According to the needs of working, JXSC products mobile jaw crusher, impact crusher, cone crusher, and screen equipment.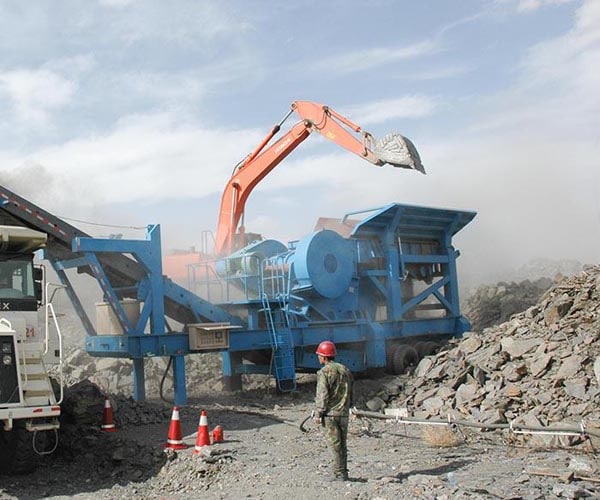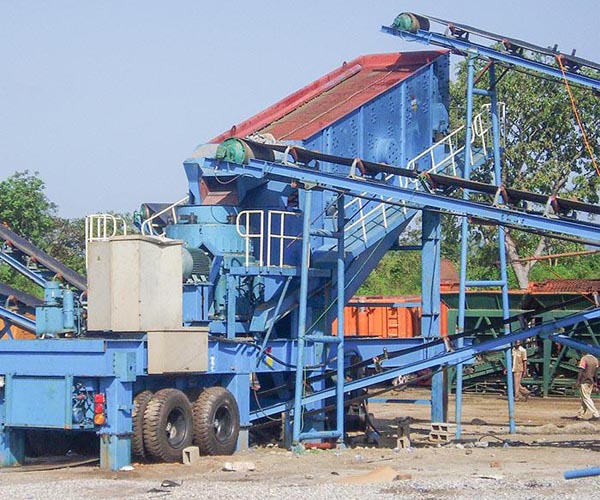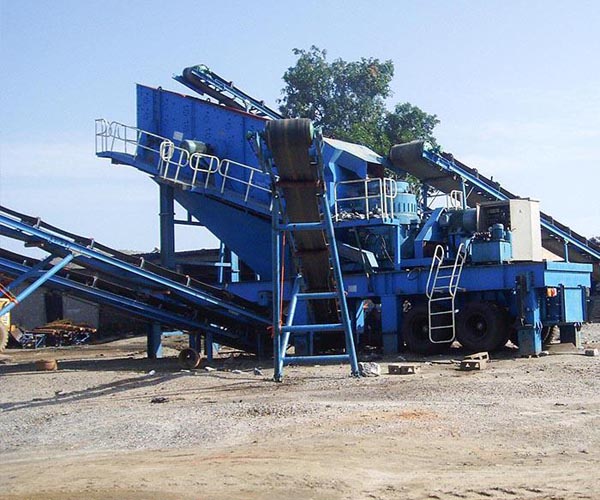 Mobile Crushing Plant
The mobile crushing plant has strong mobility and can be used directly on the spot. The plant reduces set-up time and construction work cost. It is widely used in mining crushing process, construction waste recycling, waste concrete recycling, the crushed stone that the roads need.
Mobile crushing plant process
After being treated, the bulk aggregate material which reaches the particle size of the movable jaw crusher. From the excavator to the mobile vibration feeder. The aggregate is uniformly put into a mobile jaw crusher for primary crushing. The primary crushed aggregates are fed into a secondary crusher (mobile impact crusher or mobile cone crusher). Then the finished aggregates are screened by mobile vibrating screen. Finished aggregates of various sizes are transported to the product stack by belt conveyor. And the crushed aggregates larger than the finished aggregates are conveyed into the secondary crusher by belt conveyor.
Capacity: 70-450TPH
Specifications
Mobile jaw crushing plant
Mobile impact crushing plant
Mobile cone crushing plant
Structure:
Our company product complete varieties of mobile quarry crushing plant, specifications series, give you more choice. According to the different needs of customers, provide a diverse portfolio of mobile crushing equipment, to meet the customer's production needs. There is portable mobile jaw crusher plant,  impact crusher plant, cone crusher plant.
Mobile jaw crusher plant: vibrating feeder, jaw crusher, belt conveyor.
Impact mobile crushing station: vibrating screen, impact crusher, belt conveyor.
Mobile cone crushing and screening plant: vibrating screen, cone crusher, belt conveyor.
Performance characteristics:
1. Flexible configuration, stand-alone operations, but also multi equipment operation. Vehicle-mounted motor and control box integration.
2. Integrated vehicle installation, compact structure, easy to use.
3. Vehicle-mounted support, equipment site based convenience.
4. Steering traction shaft, convenient highway transportation and in-depth site.Mobile performance is strong, high applicability.
5. Cost savings, reduce costs.
6. Stable performance, easy to repair.
Mobile Rock Crusher: Tyre Type vs Track Type
Tyre Type used the car body is Half hanging, it can smooth movement at the road or other rugged roads with locomotives. The wheel mobile crushing is suitable for the disposal of engineering waste and other construction waste in urban areas. The equipment has high working efficiency because its stability is good than the track crusher machine.
Track Type employed full hydraulic drive chassis. It is adaptable to climbing, mountain and wetland environments where complex crushing places. The track mobile stone crusher price is higher than the wheel. And it can remote-control with a wireless, high degree of automation.
JXSC Mine Machinery Factory mobile crushers for sale, inquire now.