Wheel sand washing machine latest price is a problem that customers pay close attention to, and it is also a factor that affects the wide application of wheel sand washing machine. Because of the wheel sand washing machine cost, quality, performance is different, also the price. Even if the same brand of wheel sand washing machine model price is different.
JXSC product introduction
The bucket wheel sand washer cleans and separates stone powder and dust. It's novel seal structure and reliable gearing ensure the cleaning and dehydration effects. The sand washer is a kind of high-efficiency sand washing equipment operated with the sand maker. This series of sand washer features the following advantages: rational structure, convenient maintenance, great handling capacity, low power consumption, and high washing cleanliness.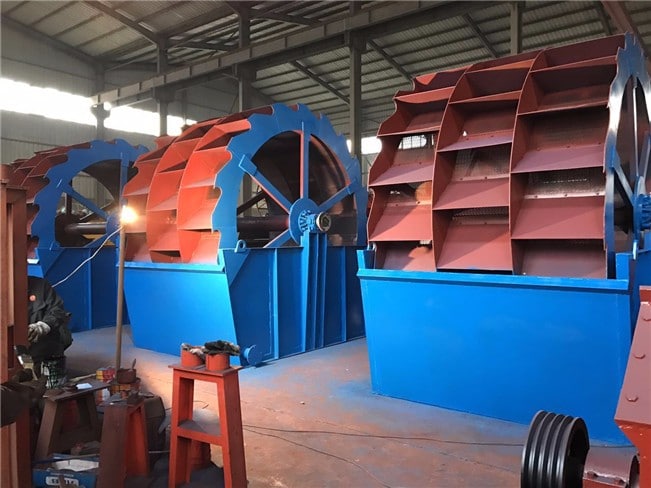 JXSC  performance characteristics
1.Simple structure, convenient to repair
2.High processing capacity and low power consumption
3.Low wear-parts consumption, low cost
4.High capacity
JXSC  application field and suitable material
The machine application field, Aggregate Field, Concrete Mixing Plant, Dry Mortar Plant Desulfurization, Quartz Sand, etc.It suitable material, Limestone, River Gravel, Granite, Basalt, Quartz, Iron Ore, Diabase, etc.
How to maintenance the sand washer
In order to prolong the life of sand washer must be reasonable maintenance in the long-term work process. we muse attend to maintenance measures the following.
1. The maintenance of axletree is indispensable because the axletree holds the post of the machine's all the weight. So the axletree we should lubrication and cleaning, gear, axletree, the sliding plane should lubrication at usually.
2. Because the newly installed Tyre is easy to lose, so the operator needs to check it regularly.
3. Pay attention to check the regular work of the various parts of the machine whether normal.
4. The wear degree of the fragile parts should be checked regularly, and the worn parts should be replaced at any time in order to reduce the production trouble.
5. The undercarriage plane of the movable device should be cleaned in time to prevent debris from causing the movable bearing of the machine to move on the low frame to avoid serious accidents.
6. It must be stopped immediately to check if the axletree oil temperature increases and eliminate this factor.
7. It must be immediately stopped to check if hear the impact sound when the rotating gear in operation.
About JXSC:
JXSC has been consistent in the past 40 years and serves every customer with sincerity. We have three series of machines. There are crushing machine, sand making machine, mineral processing equipment.
Our factory has an area of 10000 square meters, fixed assets of 6 million Yuan, with engineer and technical personnel covering 15% of the total staff. Through many years' practical experience and continuous technology innovation, our company's stone crusher, ore dressing equipment, rotary dryer, and grinding mill enjoy high popularity in home and abroad.
Your inquiry is welcomed for wheel sand washing machine price at any time.