Why I write a blog about what is the difference between spiral sand washing machine and log washer? Because the two machines look very similar. But they are different machines.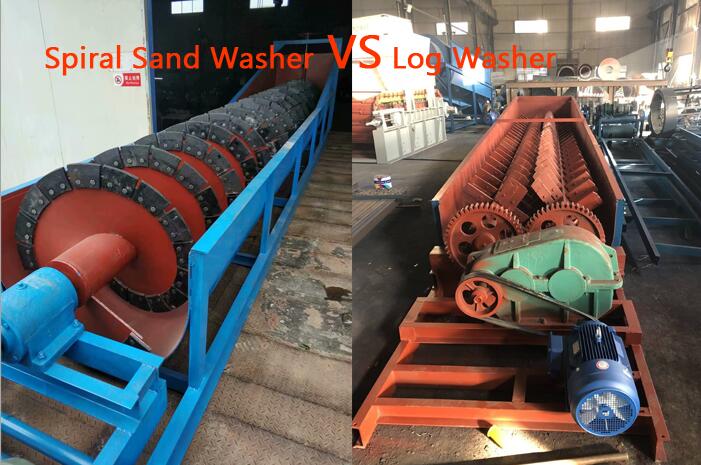 Look the image of the spiral sand washing machine and log washer, can you distinguish the two machine? But if you look very carefully, you can see the spiral on the spindle is different. The spiral of the log washer is separate, but the spiral of the spiral sand washer is connective.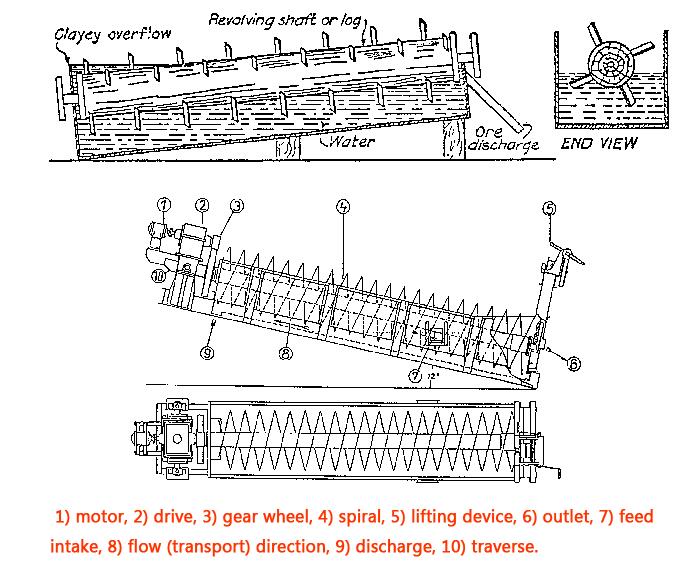 Different Applications
The main function of the spiral sand washing machine is to clean the mud in the sand. The main function of the log washer is not only to clean the sand but also to screen. The spiral sand washing machine is used for the wet sand production line. Log washer is suitable for cleaning the Mud-rich ores of iron, manganese, limestone, tin, etc. It is mainly used for stirring, washing, separation, and desliming of minerals. It is also suitable for aggregate cleaning of buildings, power stations, etc. The flushing water pressure is 147-196kpa.
Different Working Principle
How spiral sand washing machine works

The spiral sand washer is a kind of sand washing machine. It mainly stirs the sand and stone materials through the spiral device in the equipment, so that the soil and water can be mixed and discharged from the flow port of the equipment. The sand and gravel material is gradually screened under the action of the screw device and is discharged from the discharge port at the top. Thus, the cleaning and screening effect of sand is realized.
How log washer works

Log washer is the use of buoyancy of the water, separates the dust and impurities in the minerals. Through the spiral agitation, to filter water to impurities, promote the purpose of transmission. And in the lifting process, also carried out mixing work. The transmission design is simple and reasonable, and the equipment runs smoothly. JXSC's spirals using the latest design, spiral shaft using advanced polymer wear-resistant materials and sealing technology.
The installation angle of the equipment is 10 ~ 14°. When works, the two spiral shafts in the groove rotate opposite to each other. The material is fed into the middle of the two spiral shafts from about 1/3 of the overflow end of the lower part of the groove body. The coarse ore in the trough through the blade repeatedly wash transmission to the front discharge. Then after water spray washing to qualified ore discharge. The mud from the ore is discharged through an overflow weir at the back of the trough to form tailings. It is better to slime the ore by hydraulic giant first, so as to achieve a better washing effect.