Basalt is a common non-metallic rock stone in the sand and gravel aggregate industry and has high application value in construction, bridges, and roads. However, due to the nature of basalt hardness, the treatment of basalt requires multiple processes coarse crushing, medium crushing, and sand making. Different types of stone crushers have various effects on basalt processing.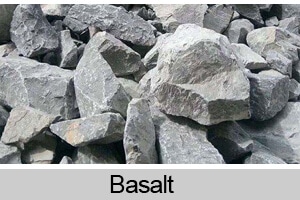 Basalt is a kind of high-quality transportation and construction that use stone, which is one of the building materials used in construction projects such as highways, railways, port terminals, and airport runways. It has the advantages of high compressive strength, low crushing value, wear resistance, low water absorption, weak conductivity, strong corrosion resistance, and strong asphalt adhesion. It is the cornerstone of the development of railway and road transportation. Not only that, but basalt is also a high-quality aggregate for lightweight concrete in high-rise buildings. Due to its porous and solid features, adding it to concrete can reduce the weight of the concrete without losing its firmness. At the same time, it also has the features of sound and heat insulation and is highly favored by major building materials markets. The demand for raw materials of basalt is very high, and the investment prospects for basalt are good.
Basalt Crushing Equipment
The basalt coarse crushing equipment jaw crusher has a "V" shaped crushing chamber, where the material starts to break at the upper part of the crushing chamber. The crushing ratio is high, and it relies on two jaw plates to crush. The crushing ability is strong, and the discharge is convenient and not easy to block. The jaw plates are made of wear-resistant materials such as high manganese steel and high chromium iron, which are sturdy and wear-resistant, extending the machine's service life.
Cone crusher
The fine crushing equipment cone crusher for basalt has a big crushing capacity and is very suitable for processing high-hardness stones. The finished products have a good grain shape and little needle and flake content. The cone crusher has an advanced hydraulic system design, capable of completing functions such as cavity cleaning, iron protection, adjustment of the ore discharge port, automatic thin oil lubrication, etc., with high intelligence, PLC touch screen control system, easy operation, real-time monitoring of equipment status, and ensuring safe production.
Sand-making machine
The deep chamber impeller design of the sand-making machine will increase the throughput by more than 30%. The hydraulic cover opening device is convenient for maintenance and repair; By combining "stone hit stone" and "stone hit iron",  the sand formation rate is high, and the particle shape is better; The throwing head design only requires the replacement of worn parts in daily work, reducing usage costs by more than 30%.
In addition to fixed basalt crushing production equipment, there are also mobile basalt crushers. Compared to the fixed ones, mobile crushers have mobile frames, making the crushing process more convenient and fast. They can crush raw materials as you want, making them more suitable for scattered basalt raw material piles and saving transportation time and transportation costs.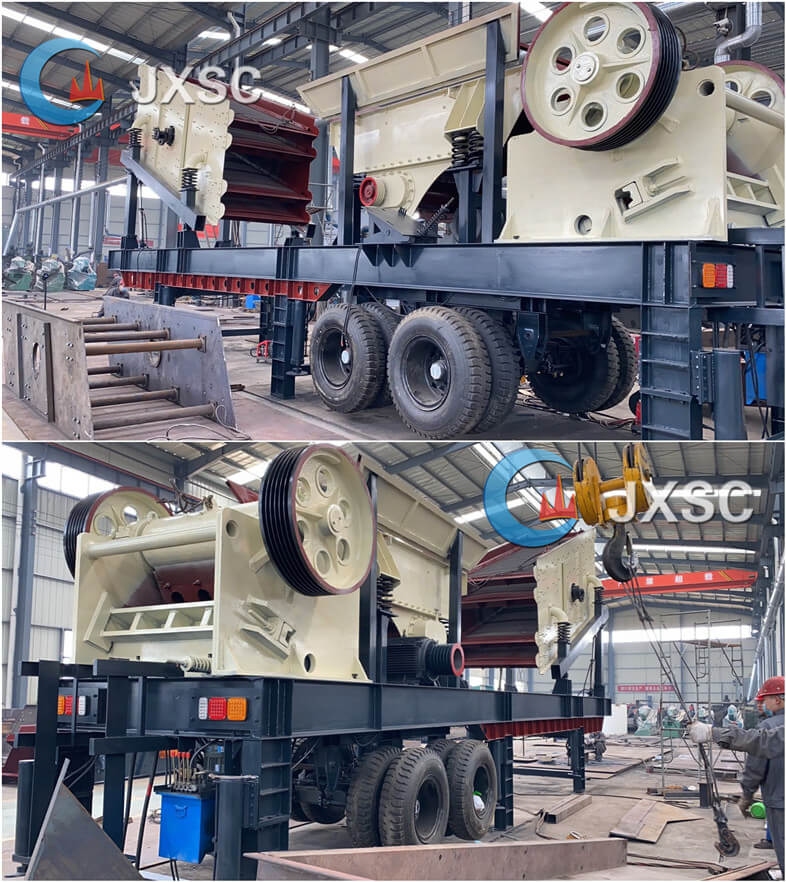 Basalt Crushing Flow
Stage 1: Coarse crushing
The large basalt is uniformly fed by a vibrating feeder through the silo and transported to a jaw crusher for coarse crushing. The coarse crushed material is screened by a vibrating screen and then transported by a belt conveyor to a cone crusher for medium to fine crushing.
Stage 2: Medium fine crushing
The basalt transported to the cone crusher undergoes medium to fine crushing and is screened by a circular vibrating screen. The large particle materials will return to the cone crusher for further crushing.
Stage 3: Sand making
After crushing, basalt particles smaller than 40mm will go to the sand-making machine for further crushing and shaping, and the output larger than or equal to 20mm will return to the sand-making machine for further fine crushing. Materials smaller than 20mm will send to a circular vibrating screen for screening and packaging. If clean basalt is needed, it will go to a sand washing machine for the cleaning process.
Characteristics of basalt crushing plant
(1) The basalt crushing equipment is equipped reasonably and operates more smoothly, and the entire production line process is smooth. Compared to other stone production lines, it has fewer faults, which can save maintenance costs in the later stage.
(2) Scientific spatial layout, small footprint, saving basic investment costs, simple and convenient installation and operation.
(3) High efficiency and large output, with a unit production capacity 1.5 times that of traditional production lines of the same scale.
(4) Selecting high-quality motor equipment can reduce power consumption and save water and electricity costs during work;
(5) Greening, minimal pollution, complete control of the noise, and dust, reducing other pollution, achieving the goal of low-carbon and environmentally friendly production.
300-500tph Basalt Crushing Plant
This setup is a stone-crushing plant suitable for river stones, granite, marble, basalt, etc, and the processing capacity is from 300-500 TPH.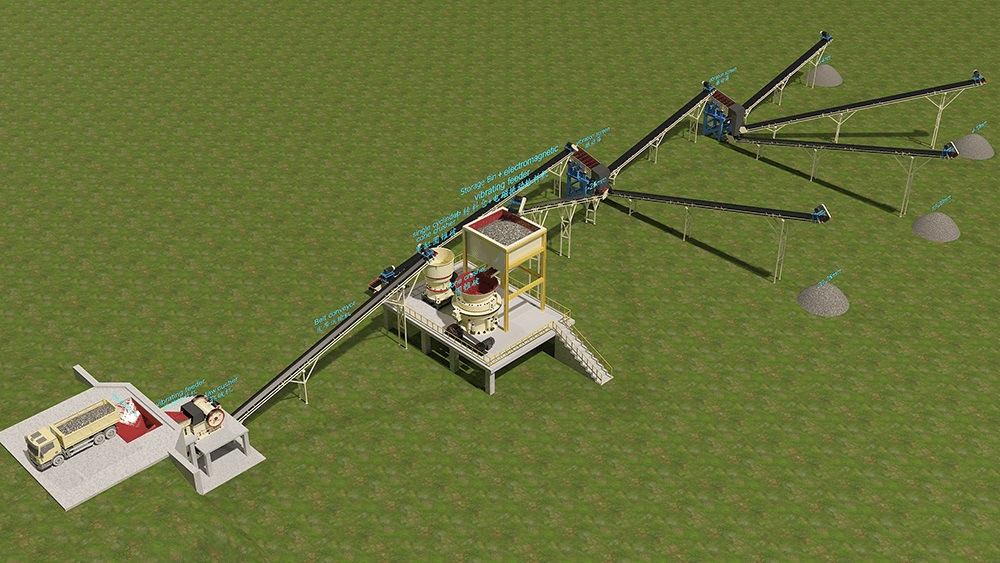 This stone-crushing plant includes feeding, two-stage crushing, and last screening. After the screening, you can get four different particle sizes for the finished products.
It configures a vibrating feeder + primary jaw crusher, 2nd single-cylinder hydraulic cone crusher, and 3rd cone crusher + 2 vibration screens.
Raw stones feed by dump truck or wheel loader to the vibration feeder with a 70-100mm grizzly bar that can smoothly feed the stones(such as 400-500mm) to the coarse jaw crusher to crush to below 200mm automatically.
0-200mm discharge material from a single-cylinder hydraulic cone crusher will go to the first vibrating screen with two layers(screen size 20mm and 25mm). So we can get three different outputs, such as 0-20mm,20-25mm, and more than 25mm in size.
Up-screen more than 25mm discharge will be sent to a storage bin with an electromagnetic vibration feeder before a 3rd cone crusher crushes again.
Middle screen 20-25mm output is one of the finished products, which will go to the stockpile.
Under screen 0-20mm output will be sent to the second vibrating screen with two layers (screen 4mm,10mm).
After the second vibrating screen discharge, we can get another three different particle sizes you need for the finished products.
They will be transported to their respective stockpiles by different belt conveyors.The capacity for this crushing plant accepts customized, such as 300 TPH, 400 TPH,500 TPH, etc.
Notes: The final size of the product accept customization. The voltage power we usually use is 380V,50HZ,3 Phase. If you need another, we can customize it for you.
When crushing basalt, there are losses amount for wear-resistant parts. Basalt has fewer reserves compared to other rock stones, therefore it is more precious. Generally speaking, the sandstone produced from the basalt crushing production line has high requirements for the particle size of the finished material, so the selection of equipment should also be more cautious. Generally, the configuration of jaw crusher with cone crusher or jaw crusher with single cylinder hydraulic cone crusher is widely acknowledged. If there is a higher requirement for the final particle size of the stone material, an impact crusher or a sand-making machine (shaping machine) will be added to the sandstone crushing plant for shaping and crushing. However, when adding equipment, the costs will also increase accordingly. So, how to configure basalt production line equipment will be determined based on different factors such as the actual situation, investment cost estimation, and requirements for stones and finished products. Contact our professional engineers for a consultation!