Iron ore is a raw material for steel production enterprises, and natural ore (iron ore) after crushing, grinding, magnetic separation, flotation, gravity separation, or other extracting procedures to get ore concentrate. Iron ore is a kind of economically utilized mineral ore, which contains iron elements and iron compounds. There are various types of iron ore in the world, and different iron ore type has different processing way.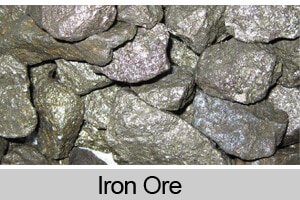 1. Types Of Iron Ore
The types of iron ores are divided into magnetite, vanadium titanium magnetite, hematite (pseudo or semi-pseudo hematite), limonite, siderite, and mixed ore composed of two or more iron minerals.
Magnetite is the most important raw material of iron ore. It mainly occurs in metamorphic sedimentary type, contact metasomatic hydrothermal type and volcanic intrusion-related iron ore deposits. It belongs to the ore type with easy selection and a high utilization rate. Its reserves and mining output rank first in iron ores.
Vanadium titanium magnetite ore mainly occurs in late magmatic deposits, with an iron grade below 30%. Associated V and Ti can be comprehensively utilized. The iron ore deposit is large in scale and easy to process and select.
Hematite ore mainly exists in sedimentary type, weathering leaching type, and some metamorphic sedimentary type iron deposits related to volcanic intrusion activities
Limonite ore mainly exists in the oxidation zone of weathered leached iron ore deposits and in contact with metasomatic hydrothermal ore deposits. The iron content is 35% -40%, with the highest reaching over 50%. It contains high levels of harmful impurities such as S and P, making it the target for local enterprises and the public to mine.
Siderite ore mainly exists in sedimentary and partially contact metasomatic hydrothermal iron deposits. The iron content is 30% -35%, and ore mining, beneficiation, and selection are difficult to operate, with low utilization rates.
Mirror iron ore mainly exists in contact with metasomatic hydrothermal iron ore deposits, contains 30% -35% iron, and is difficult to select and utilize.
Mixed ore refers to iron ore that coexists with two or more ore types. Mainly occurring in metamorphic sedimentary and contact metasomatic hydrothermal deposits.
Under the current technical conditions, magnetite, hematite, maghemite, ilmenite, limonite, and siderite are of industrial use value. Recently, the iron ore price has been rising synchronously, and the market demand is increasing. The demand for iron ore beneficiation equipment becomes larger. So what equipment is needed for iron ore beneficiation?
2. Iron Ore Separation Equipment
Iron ore is an iron-making material with a wide range of fields. For the processing of iron ore, we usually adopt magnetic separation. The iron ore magnetic separation production line consists of an iron ore processing machine, including crushing equipment, screening equipment, grinding and grading equipment, magnetic separation equipment, etc. The composition of this equipment is conducive to a deeper processing of iron ore, a good purification effect, and a better improvement of mineral economic value.
According to the entire iron ore processing and technology, the equipment used for iron ore beneficiation includes a jaw crusher, cone crusher, vibrating feeder, conveyor belt, vibrating screen, elevator, grinder, magnetic separator, flotation equipment, etc.
Jaw crusher
After preliminary blasting treatment, the iron ore needs a stone crusher to crush iron stone into smaller pieces. Here a jaw crusher is used for primary crushing, which is one of the most commonly used equipment in the crushing field and has outstanding advantages.
The bearing design is scientific, the material selection is advanced, the equipment quality is reliable, there are fewer faults, the working efficiency is high, the production capacity is large, and the processing capacity is increased by 15% compared to conventional crushers.
The principle of deep cavity crushing, more crushing, and less grinding ensure that the crushed iron ore has uniform particle size, reasonable particle shape, and a wide range of adjustments for discharge particle size.
Ball mill
After primary crushing, the iron ore will be ground to powder by a ball mill for wet grinding treatment to obtain the required iron ore slurry. Choosing a ball mill is the most reasonable decision. This equipment has mature technology and structure and has significant product advantages.
Closed system design, achieving high-energy grinding under negative pressure, eliminating dust, and designing a noise reduction device to decrease noise volume, achieving green grinding.
The lining plate, grinding body, and cylinder body are all cast with superior materials, which are sturdy and reliable. At the same time, the grinding efficiency is high, and energy consumption, electricity, water, and oil costs are all saved.
The grinding effect is excellent, and the quality of the iron ore slurry is excellent, providing superior raw materials for the next stage and effectively promoting the improvement of the selected grade.
Magnetic separator
The magnetic separator is the main equipment in the iron ore selection process. It performs post-purification and impurity removal treatment on the grind iron ore slurry and utilizes the principle of high magnetism to select high-grade iron concentrates. This equipment also has excellent performance characteristics.
Sophisticated technical design and scientifically crafted magnetic separation structure effectively enhance magnetic separation grade and reduce the workload of the production line;
Strong magnetism, more reliable, equipment service life extended by more than three times, failure rate reduced by 65%, saving maintenance costs;
Energy saving power, reducing energy consumption, and good purification treatment of tailings after magnetic separation, without causing pollution to water flow, land, environment, etc.
In addition, the machines used for selecting iron also include much equipment such as spiral classifiers, thickeners, and dryers.
3. Iron Ore Processing Plant Flow
Firstly, crushing and screening is the first step, and large pieces of iron ore are uniformly fed into the jaw crusher by a vibrating feeder through the silo for coarse crushing; The roughly crushed iron ore is screened by a vibrating screen and then transported by a belt conveyor to a cone crusher for intermediate and fine crushing; Next is the fine ore grinding process, where the 0-12mm iron powder screened by the vibrating screen is uniformly sent to the ball mill for grinding, and screened by a spiral classifier. Those iron ores that do not meet the requirements will be sent to the ball mill for further grinding; Next, the iron powder that meets the beneficiation requirements will feed into a magnetic separator for strong magnetic separation and magnetic separation to remove impurities; Finally, the obtained iron powder sent to a dryer for drying to get final iron concentrate powder.
Performance characteristics
In terms of equipment usage, the iron ore beneficiation equipment is more convenient to operate. Each piece of equipment has been designed and improved with advanced technology, which is conducive to more convenient operation and maintenance.
In terms of equipment beneficiation effect, for iron ore beneficiation operations, the overall magnetic separation effect is good. Whether it is front-end grinding or later magnetic separation, it is conducive to the rational utilization of iron ore.
In terms of equipment investment efficiency, the complete set of iron ore beneficiation equipment combined with a complete production line, which is cost-effective in investment and has a short recovery cycle, and possesses investment prospects.
4. 50-100tph Iron Ore Processing Plant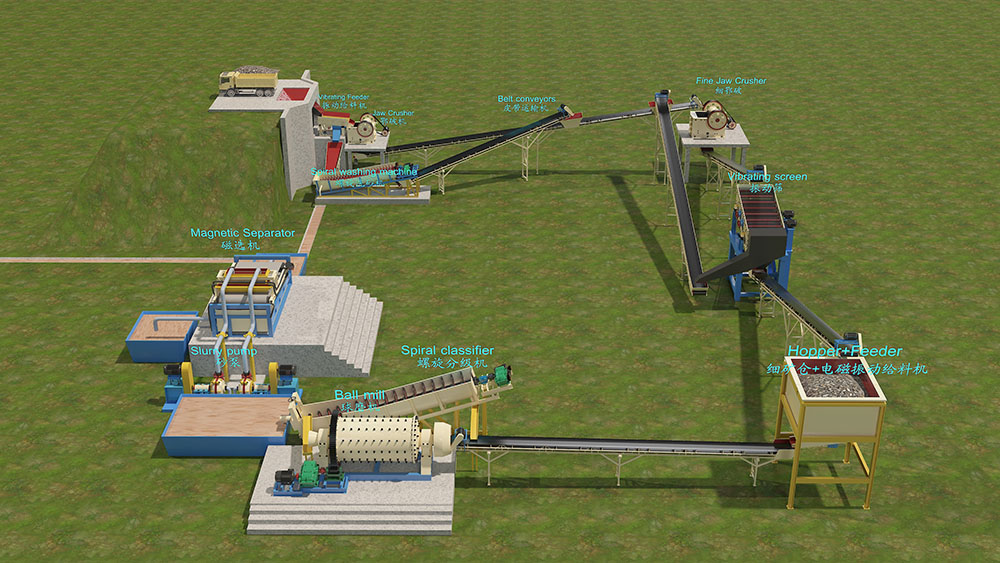 This setup is for the iron ore process, the size range of the iron ore is 0-230mm, and the main machines are as below:
Hopper+vibration feeder(with grizzly bar) to jaw crusher to spiral washing machine to belt conveyor to fine jaw crusher to belt conveyor to vibration screen, belt conveyor, hopper+feeder, belt conveyor, ball mill, spiral classifier, and magnetic separator.
The Hopper+vibration feeder(with grizzly bar) for feeding materials to the jaw crusher automatically, and sieve the size 0-50mm to the spiral washing machine. You only need to load the materials to the hopper by truck or excavator or else as you want.
The jaw crusher is for crushing the iron ore 50-230mm, then to the fine jaw crusher;
The spiral washing machine is for washing the size 0-50mm and then to the fine jaw crusher;
The fine jaw crusher is for crushing the iron ore to 0-20mm and then to the ball mill;
The vibration screen separates the size 0-20mm and transfers it to the ball mill, and more than 20mm size iron ore back to the fine jaw crusher;
The hopper+feeder is for feeding the materials to the ball mill more smoothly;
The ball mill and spiral classifier is for grinding the iron ore and making sure the size of the final product to 0-0.074mm;
The magnetic separator is for separating the iron concentrate;
The capacity for this complete iron ore processing plant accepts designs to 10tph, 50tph, 100tph, etc.
Notes: if the materials are not much sticky, they will not need the spiral washing machine, and the quantity of the machines is for your reference, will depend on your capacity.
The specific choice of iron ore processing equipment mainly depends on the ore type, the hardness of the material, the size of the finished product, the site, and the actual demand, etc. Contact our professional engineers for a consultation!