With the advancement of urbanization, urban construction waste has maintained a trend of the increasing year by year, and has even become the "main force" of urban waste. In order to strengthen the recycling treatment of construction waste and improve the utilization efficiency of construction waste, the mobile crusher is very popular once it is launched.
Mobile crushers are also called mobile stone crushers, vehicle-mounted mobile crushers, and mobile crushing stations. Compared with the traditional stone crusher, the new generation of mobile stone crusher has been greatly improved in terms of internal structure, installation and operation, and environmental protection design. Because it is more flexible than traditional sand and gravel equipment, the effect of this machine is particularly significant in fluid crushing and processing operations, and it is a device with a very high comprehensive demand in the market. The mobile stone crusher is more suitable for the crushing and processing of construction waste, marble, granite, cobblestone, limestone, iron ore and other materials, and its finished products are widely used in roads, construction, building materials and other industries.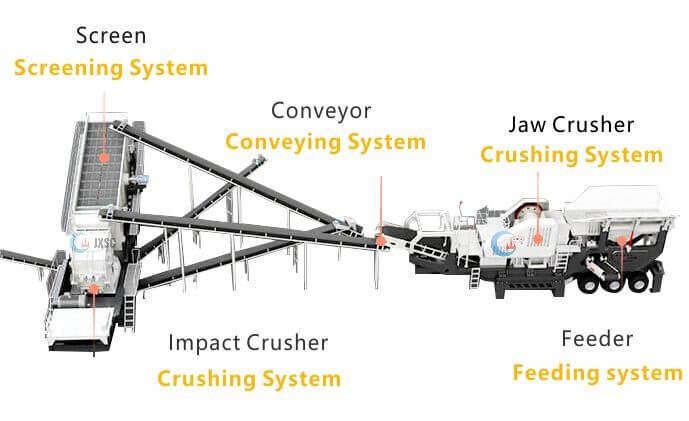 1. Status Of Construction Waste
In many cases, the distribution is scattered, and the surrounding environment, and the site area is limited. In the face of complex and changeable production conditions, the mobile crushing station can cope with high adaptability and flexibility. Solid waste is transformed and utilized locally.
After proper treatment of construction waste, the economic value and social effect of its reuse is simply worth the money! Many people have a prejudice that garbage is useless and even piled up and buried arbitrarily, which not only wastes resources but also causes environmental pollution, which is not worth the loss. Today, a large amount of construction waste can be transformed through the treatment of mobile crushing equipment. It has become a popular sand and gravel aggregate in the market, and it can be reused again, and it can also bring high benefits to users.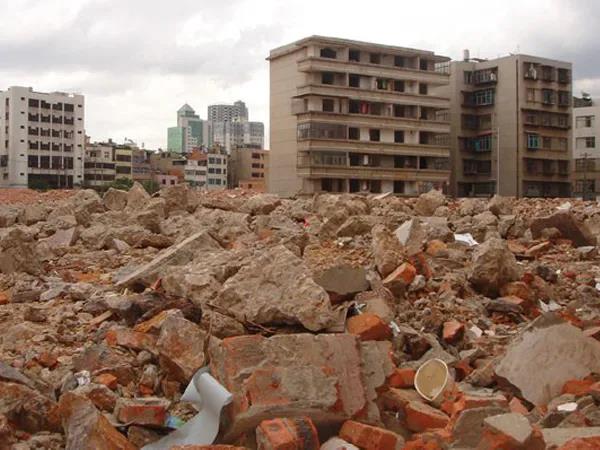 2. Construction Waste Crushing Process
As far as the current technological level is concerned, the technological process of processing construction waste mainly includes several key links such as pretreatment, crushing, screening and dust removal, and water washing.
1. Preprocessing
In general pretreatment, hydraulic hammer is used to crush and reduce the oversized lumps (this link is optional), and the iron remover is used to adsorb the steel bar to prevent damage to the conveyor belt, and at the same time, other garbage (such as non-metallic blocks, wood, etc.) is sorted out. packaging materials such as paper, etc.).
2. Crushing
The pretreated materials can generally be crushed, and one or two crushings are configured according to the process requirements.
After feeding, it is transported to jaw crusher for primary crushing, and then transported to impact crusher or cone crusher for secondary crushing, followed by vibrating screen for screening. To the crusher cavity, it is crushed again, thus forming a closed loop.
3. Screening and dust removal
Install fan air ducts in crushers, vibrating screens and other places where dust is generated, dust is drawn into the closed air duct by the fan, and a water spray nozzle is installed, the water is atomized, and the dust is cleaned up, so many sprays , be completely removed, and create a green and environmentally friendly production plant.
4. Washing
After crushing and screening, the materials that meet the particle requirements are cleaned by a wheel sand washer or a spiral sand washer. , the level is accurate, the boundaries are clear, and different specifications of sand and gravel aggregates are formed, which are used in different recycled aggregate factories.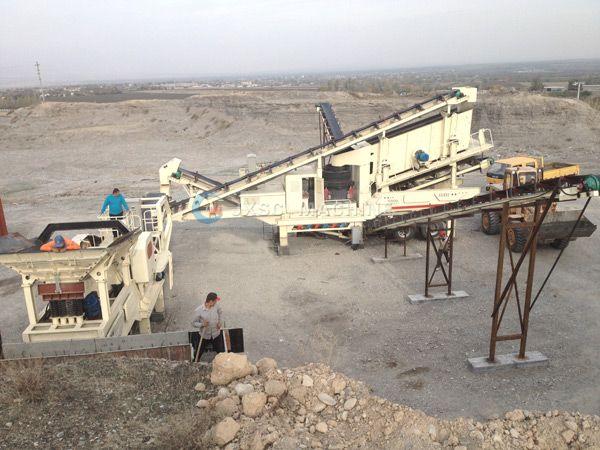 3. Why Use A Mobile Crusher?
The mobile crushing station can be driven flexibly on ordinary roads and operating areas, and the transfer is convenient and fast, which reduces the transportation of construction waste, the difficulty of urban management and the problems of environmental pollution. Bricks, concrete and other construction waste are crushed and screened by the mobile crushing station and processed into recycled aggregate, which can be used on-site. As a road water stabilization layer, or for the filling of foundation pits, stone powder can also be used as a concrete admixture instead of fly ash and slag powder. While realizing the comprehensive utilization of resources, the project cost is effectively reduced.
The mobile crushing station adopts the installation form of integrated unit equipment, which eliminates the complicated site infrastructure installation work of the split components. It is equipped with shoe shoes and vehicle-mounted belt conveyors, which are automatically folded during transportation and transfer, and immediately enter the operation mode after deployment on site. It saves a lot of manpower and time, and at the same time has a compact layout, strong adaptability to the operating environment, high production efficiency, and can quickly complete the operation requirements.
At the same time, its combination is flexible and can be used independently. It can also provide more flexible process configuration according to the customer's requirements for material types and products in the process, so as to meet the user's various requirements such as mobile crushing and mobile screening, so as to make the production organization and logistics transfer more efficient. Direct and effective, saving a lot of production costs for customers.
The equipment is divided according to the combination, and there are many types. "One stroke can move the whole body". The mobile stone crusher is basically composed of four system modules, and the equipment of each system can be freely replaced. For example, the main machine (crushing) system can be matched with jaw crusher, impact crusher, cone crusher, heavy hammer crusher, sand making machine, fine crusher, etc. Different combinations have different names. , functions and values are also different.
Regardless of any matching scheme, it is based on the interests of customers and aims to be more suitable for the production needs of users. In general, the mobile stone crusher can operate on a single machine, or multiple units can be connected online, and the combination of models is very flexible.
4. JXSC Mobile Crushers
1. Strong mobility
Unlike traditional stationary crushers, all components of this mobile crusher are mounted on an independent vehicle chassis, with a short wheelbase and a small turning radius. On ordinary roads, even in some harsh environments, flexible driving in the work area is not only conducive to entering a reasonable construction area, but also saves a lot of preparation time for quickly entering the construction site.
2. Low investment in operating costs
The integrated installation group machine form can completely eliminate the complex on-site infrastructure installation operations and reduce the consumption of materials and working time. In addition, the machine can also go directly to the sand making site to complete the material on-site sand making operation without leaving the site for processing. Reduce material transportation costs, so traditional crushers with fixed pile installation are required, and mobile crushers are less expensive to use.
3. Wider application range
Mobile crushers can not only meet the production needs of stationary crushers, but also suitable for some construction environments with harsh environments and high fluidity. In addition, in addition to the existing models, the mobile crusher can also provide customers with more flexible process configurations to meet the different production needs of different users.
4. The finished sandstone has a good effect
The impact crushing mounted on the mobile crusher makes the shape of the machine sand grains good.
JXSC Mine Machinery Factory mobile crushers for sale, all mobile crushers are customized and best sale, small mini mobile crusher is especially popular! inquire now.