How to Run an Aggregate Crushing Plant?
At the same time of economic development, the concrete industry is booming, aggregate sand takes an 80% proportion in all materials of concrete. Improving the productivity of aggregate processing plant, which on the sand aggregate manufacturing process put forward higher requirements.
1 Aggregate processing plant design
1.1 Crusher
How many times a raw stone be crushed to produce the finished aggregate? As we all know, the higher the crushing times, the higher the cost. Aggregate that is crushed one or two times usually not achieves the required effect whether the size or shape. In the practice, there is three crushing processed at least. In one word, the crushing process is determined by the requirements, cost, and profit.
1.2 Processing plant layout
The type and output of aggregate are determined by the capacity of the crushing and screening machine, the maximum capacity can be 1000t/h. if want a higher output, only by increasing the crushing production line. take a three crushing aggregate processing plant as an example.
Capacity: 350-400t/p
Discharging size: 0-30mm
Feeding size of first crusher: <100mm; second crusher: 5-200mm; the third crusher: 5-100mm.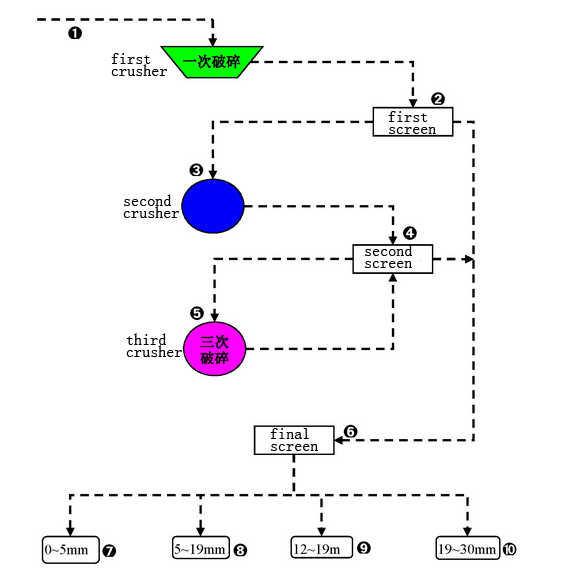 1.3 Determination of machines
After the analysis of the processing flow and aggregate size, the determination of the crusher machine, the screen should be taken in considered next. The crushing effect is various with the type and model. When using cone crusher, it is important to control the feed flow of the material, so it is best to have a surge bin before the material goes into the cone crusher. Besides, the feeder can control the stability of feeding in the process, and the cone crusher is the best equipped for grading of aggregate. The screen machine is always as corollary equipment for crusher in the crushing process. more cases of crushing plant for reference
Impact crusher has many advantages compared to the cone crusher because of its simple structure, and working principle of impact force, such as don't need surge bin, fewer requirements for screening machine. But, it is inevitable that impact crusher has a shortcoming which finished product has a high content of needle shape gravel and of powder. Impact crusher is rarely in the aggregate processing plant alone, only when combining with the vertical gyratory crusher. The vibrating screen divides into the sideling type and flat type, sideling type more power saving than the flat vibrating screen. Generally, the fine particle screens are a single layer or double layer, but the finished product screen is multiple layers for the most part. What's more, a washing system is made for the wet type aggregate process, dust removal design for the dry type process.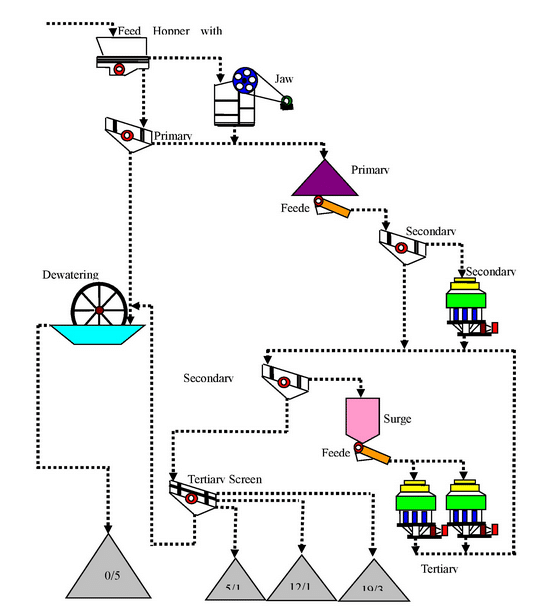 2 Crusher machine
2.1 One time crushing process
Jaw crusher VS impact crusher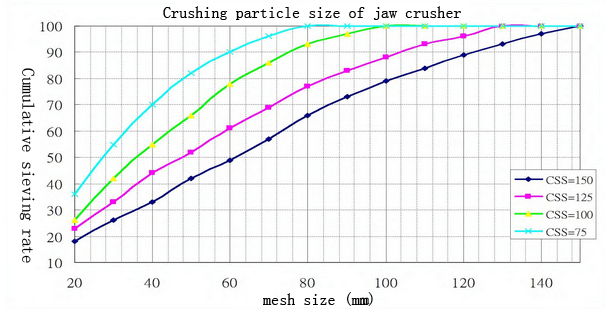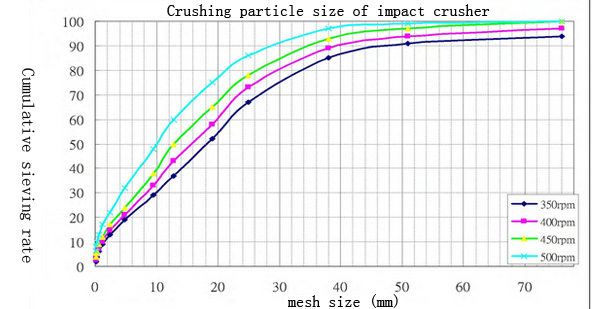 2.2 Multiple times crushing process
Check the capacity by considering the nominal feed opening, closed side setting S.S.S and crusher type, then choose the reasonable equipment. If need four times crushing process, the gyratory crusher usually is the fourth crusher. The choices for the second or third crusher are cone crusher, gyratory crusher, impact crusher. Jaw crusher can be put at the first crushing sector, primary crusher process the material( >500mm).
Impact crusher has a higher crushing ratio, suits for the material which don't need repeatedly crushed.
Cone crusher can produce a good shape particle.
The gyratory crusher is used for shaping, thus produce good quality gravel.
Sand making machine for sale
3 Conclusion
Complete aggregate processing plant starts from
Get the information about the raw stone material.
Determination of production quantity.
Aggregate processing plant layout
Choose suited machines
To find reliable crusher machine manufacturer