Impact crusher is a star product of crusher machine in the crushing plant, usually used for coarse-medium crushing of limestone, coal, calcium carbide, quartz, dolomite, iron sulfide ore, gypsum, and many other medium hardness materials. the impact crusher has a higher crushing ratio than the hammer crusher.
The impact rock crusher can process the materials with side length less than 100 ~ 500 mm, and its compressive strength can reach up to 350 MPA, has the advantages of large production capacity and fine discharge particle size. in the aggregate processing plant, the impact crusher generally put in the third sector that behind the jaw crusher.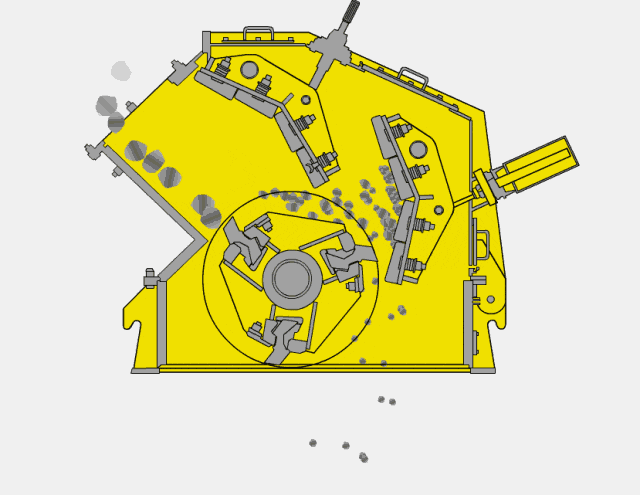 Working principle of impact crusher
Impact crusher generates strong impact force to reduce the material size. electric motor drive the rotor rotates at high speed, when the material into the crushing area, collide with the rotor head multiple times until the large material crushed into the required size. the discharge mouth length varied with the required particle, obtain different granularity by adjusting the gap between the frame and rotor.
Repair
Bearing Heat: it is a sign of need adding lubricating oil, add oil, and replace the worn out bearing in time.
Vibration anomaly: indicate the processing material is oversized, need to adjust the feed size.
Belt turnover: the belt is worn out, need to replace the V-belt.
Oversized discharge particle: rotor has been wear out or the gap between rotor and frame larger, generally adjust to 15-20mm.
Types of impact crusher
(JXSC FOR YOUR CHOICE)
1. PF type impact crusher is suitable for crushing all kinds of medium hardness materials, such as limestone, granite, slag, sandstone and so on, in the cement, building materials, chemical industry, electric power, metallurgy and other industrial sectors.
2. IBP type coarse impact crusher, it can be used in the primary, secondary crushing operations. compression strength less than 150MPA, the max feed size is 300mm, can be an alternative to the jaw crusher, gyratory crusher as the primary crusher. If the compression strength higher than 150MPA, the feed size bigger than 400mm, it also can be used as secondary crusher.
Advantages: reinforced crushing chamber with a large capability, high impact resistance, adjustable rotors and strong crushing force.
3. Vertical shaft impact crusher, widely used in fine and coarse grinding of metal and non-metal ores, cement, refractory, abrasives, glass raw materials, building aggregates, artificial sand and various metallurgical slag, especially for medium-hard, extra-hard and abrasive materials such as silicon carbide, carborundum, sintered bauxite, magnesia, etc. , more than other types of crusher has advantages. It can be used with hydraulic jaw crusher to deal with all kinds of metallurgical slag.
Sandvik crusher, Metso crusher is the most advanced impact rock crusher with high crushing ratio and good particle shape. JXSC mine provides qualified  impact crusher and other stone crushers( cone crusher, jaw crusher, rol crusher, hammer crusher, sand making machine) with competitive price, prepare impact crusher wear parts for replacement. Besides, impact crusher design and installation are affordable.