Natural sand is reducing day by day, and artificial sand was got widely used to protecting natural resources all over the world.
Sand making process
In the sand artificial making process(sand plant), the raw materials are evenly fed into the jaw crusher machine for primary crusher by the vibratory feeder. Then the crushing materials are conveyed to impact crusher and vsi sand making machine for secondary crushing(fine crusher). The belt conveyor transports the finally crushing materials to vibrating screen for separation. The require sand size product would be sent to the sand washing machine for clearance. Unrequested product will be returned to the sand making machine for repeated crushing until getting all required size. The process of artificial sand making is complete.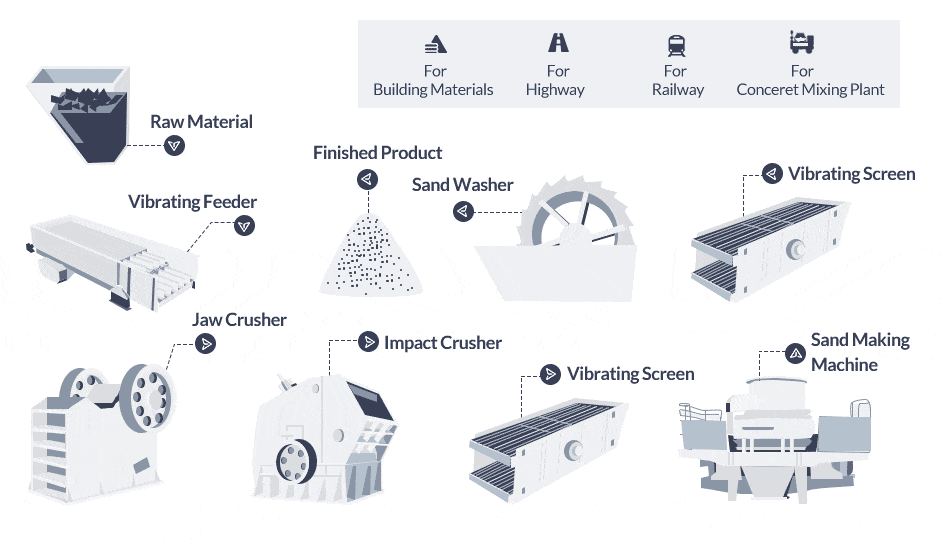 There are mainly three steps of crushing, washing and screening in the artificial sand making process. The crusher machines of crushing step may employ use jaw crusher, impact crusher, cone crushing, hammer crusher, sand maker. The artificial sand size different, the crushing equipment is different. The equipment of washing sand step is wheel sand washing machine or spiral sand washing machine. Spiral equipment washes much cleaner. Then the last step is to use sand screening machine for sand separation.
What materials can make artificial sand
There are many materials that can make manufactured sand. For example, granite, basalt, river pebbles, pebbles, limestone, calcite, andesite, rhyolite, Diorite, diabase, sandstone, tailings, slag, quartz, etc.  They vary in strength and grain size of artificial sands is because of the rock different. Exposition of the use of some rocks for making sand as follows.
Sandstone
The quartz content is higher, its widespread application in stone plant, but there is a problem of rock fine must solve.
Quartz
The quartz is the best material for sand making.  They can reach or even be superior to natural sand in both strength and grain size.
River Pebble
River Pebble is also a kind of good quality raw material for sand making. It is good artificial sand to replaces natural sand in strength, grain type, chroma respect.
Limestone
The raw material of the crusher plant and sand plant can be Limestone, meanwhile, the stone powder can also be reused.
Basalt
The sand made of basalt mixed with concrete that can reduce the weight of concrete. And it is still very firm, also sound insulation and heat insulation. It is a good aggregate of lightweight concrete for high-rise buildings.
Granite
Granite with high quartz content and low sulfide content that is a good raw material for sand making, but the problem of powder should be solved.
Factors affecting sand output
1. Material
The hardness, viscosity and humidity of material could affect artificial sand output. Greater hardness, higher viscosity and higher water content, the output is lesser.
2. Operation and Maintenance.
Standard operation and regular maintenance can improve the sand production rate of the sand machine. If not, the crushing equipment wears parts will wear speed up, and reduce equipment life. The rate of sand making machine lessens.
3. Quality
Sand maker quality is good, not only energy-saving, environmental protection, and can easily achieve the expected output of equipment. JXSC who crushing machine manufacturers use new-high-wear-resistant materials and international more advanced production technology. Our equipment can meet the production requirements of customers. Provide a favorable guarantee for continuous, efficient and safe production
4. Project design.
The design of the whole sand plant must rationalize. The production plant not only requires a reasonable production capacity of the sand making machine, but also requires that the handling capacity of the jaw crusher, the cone crusher and the belt conveyor match it. Otherwise, the final sand production rate will definitely fail.
Always, the user should consider their own production situation when buying sand plant equipment.
Artificial Sand vs Natural Sand
Artificial sand is produced by reducing larger pieces of aggregate into sand-sized aggregate particles. Manufactured sand can be manufactured to be a certain grain size that the buyer chooses, while natural sand can be a mix of coarse and fine grains. Manufactured sand tends to be more angular and flaky due to the crushing process. Highly angular particles tend to increase the paste content of concrete because additional lubrication is required for particles with sharp corners. Supplies of artificial sand are limited only by the capacity of those making it, and where natural sand is in short supply or logistically difficult to obtain, artificial sand is a better solution.
Natural sand has an ideal shape for use as fine aggregate in concrete.  The natural sand particles are well-round and are usually nearly spherical. Spherical particles decrease the percentage of voids within the concrete mixture so no additional paste require to fill these voids. Well-shaped natural sands are ideal for workability of mixtures.  Natural sand does not require more water to enhance the workability of the mixture so the amount of bleed water in the concrete will not be increased.
Rivel Sand Mining
Long ago, when the industry was undeveloped, the river sand was not strictly controlled and could be mined by everyone. The method of mining mainly depends on manual mining. When the water is shallow, the sand-picking tools like Dustpan are put on the bottom of the river, and the sand-passing boat is pulled up bit by bit by manual force. Shipped Ashore, hand-picked to the sands.
Now, it uses mechanically mined, using gravel pumps to suck the sand directly from the river, and then loaded into trucks or piled up in coastal sand fields. But because excessive mining which destroyed the ecological environment, now, many countries are strictly prohibited from Mining River Sand. Therefore, the Walkerpump gravel pump is hardly used for sand mining, but for dredging, gravel suction, dredging channels, mining, and metal smelting slag transportation.