Marble is a metamorphic rock formed by the high-temperature and high-pressure action within the crust. It has high compressive strength and relatively stable chemical properties, is not easy to deform, has good wear and corrosion resistance, and meets the standards for building sand after crushing and processing. It is a useful raw material for machine-made sand. After professional crushing and sand-making equipment processing, marble waste has excellent particle size and can become a sand and stone aggregate in short supply. It produces various material sizes like 0-5mm, 5-10mm, and 10-20mm according to the customer's requirement, and has a wide range of applications. It is used as auxiliary materials for concrete, building river embankments, paving roads, etc., completely replacing natural sand and stone. Moreover, the price of machine-made sand is continuously increasing, which not only has economic benefits but also makes good use of waste resources, the market is broader than natural sand. So what equipment is for marble processing?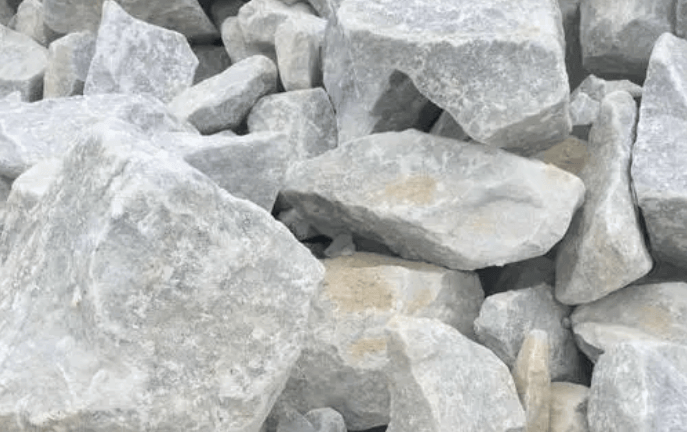 Marble Sand Processing Equipment
Jaw crusher (coarse crushing)
It has the advantages of a high crushing rate, wide application range, deep chamber crushing without dead zone, and not easy to block materials. Suitable for various rocks and blocks of marble with coarse and medium crushing, it has outstanding performance in handling hard materials. It adopts the principle of extrusion crushing, the operation efficiency is higher, and the output reaches 1100 tons per hour. The discharge particle size is adjustable, adjusting the discharge port to get different output sizes, with an adjustment range of 10-350mm.
Cone crusher (medium and fine crushing)
The cone crusher adopts the principle of layered crushing, with high crushing strength, a high-performance crushing chamber combined with high crushing frequency, high work efficiency, easy crush stones with high hardness, high content medium and fine materials, and convenient discharge adjustment. In the marble crushing production line, it is the crusher machine after a jaw crusher performs medium to fine crushing processing on marble.
Sand making machine (shaping sand making)
The sand-making machine mainly performs fine crushing and sand-making treatment on marble scraps. It adopts a good crushing chamber angle design, with a unique design that achieves multiple uses in one machine. Its processing capacity and throughput are improved, and the components are not easily worn, greatly reducing the operating cost of the equipment. The hydraulic cover opening device system used in the machine is simple and convenient for maintenance, with good particle size, safety, and environmental protection. It has multiple functions like fine crushing, sand making, and shaping, with a discharge particle size between 0-5mm.
Auxiliary equipment
The auxiliary equipment consists of conveying equipment (belt conveyor), feeding equipment (vibrating feeder), and screening equipment (circular vibrating screen).
Three Solutions For Marble Sand-Making Plant:
Solution 1: Marble waste particle size<50 mm
Configuration plan: Vibrating feeder+sand making machine+vibrating screening machine+ belt conveyor
This production line is relatively simple, as the particle size of the marble is under 50mm, which is within the feeding range of the sand-making machine. A sand-making machine is sufficient.
Solution 2: Marble particle size<500mm
Configuration plan: vibrating feeder+cone crusher+sand-making machine+vibrating screening machine+belt conveyor
Based on solution 1, it adds a cone crusher, mainly because the particle size of the marble exceeds the feeding range of the sand-making machine, so it is necessary to use medium crushing equipment, the cone crusher, to break it into small pieces of marble.
Solution 3: Marble particle size<1200 mm
Configuration plan: vibrating feeder+jaw crusher+cone crusher+sand making machine+ belt conveyor
Based on solution 2, it adds a jaw crusher. Because the particle size of marble exceeds the feeding range of the cone crusher, only jaw crushers with large feeding ports and strong-crushing capacity for coarse crushing process.
The above are three usually used solutions for marble crushing and the specific configuration of which flow design and model depends on the production requirements.
Characteristics Of Marble Crushing Plant
The equipment design is reasonable with stable operation, and the complete production line process is smooth with fewer faults. Compared to other production lines, it saves production costs for later maintenance and upkeep.
Scientific spatial layout, small footprint, saving basic investment costs, simple and convenient installation and operation.
High efficiency and large output.
Selecting high-quality motor equipment will reduce power consumption and save significant water and electricity costs during work;
It has the advantage of greening and minimal pollution, controlling dust, noise, and other pollution within a reasonable range, achieving the goal of low-carbon and environmentally friendly production.
200tph Complete Marble-Crushing Sand-Making Case
This setup is a 200tph complete marble-crushing sand-making and sand-washing plant. This sand-making plant includes one set vibrating feeder, one set jaw crusher, one set single cylinder cone crusher, one set VSI sand-making machine, three sets of vibrating screens, one set of spiral washing machine, a wheel sand washer, a dewatering screen, and 12 belt conveyors.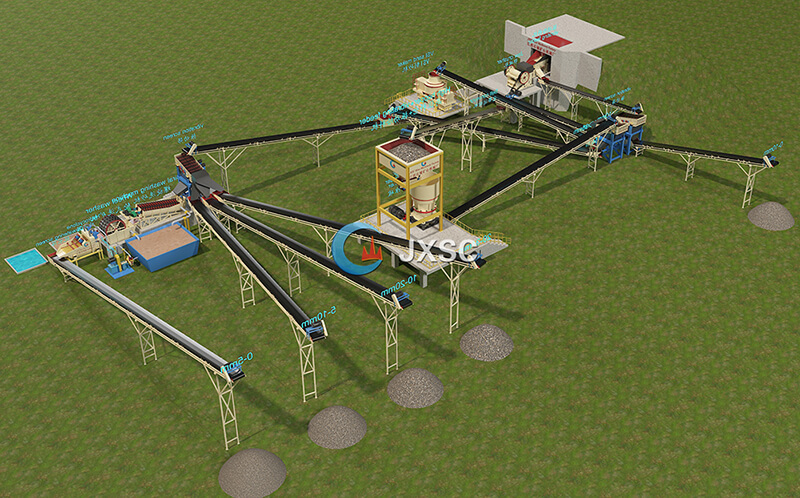 Here it is the procedures:
The truckload feeds raw material to grizzly vibrating feeder, over-grid granite feeds into the jaw crusher evenly, then to single-cylinder cone crusher, under-grid material conveys to 1st vibrating screen.
1st vibrating screen has one layer with a mesh size of 10mm, 0-10mm material goes to a stockpile, and +10mm material goes to the cone crusher by the same conveyor of the jaw crusher's discharge.
This single-cylinder cone crusher is for fine stone crushing, which can crush material below 50 mm, and discharge material transport to the 2nd vibrating screen.
2nd vibrating screen is a three-layer vibrating screen, over-screen +35mm material back to cone crusher for re-crushing, middle size 5-35mm conveys to VSI sand maker for making high-quality sand, under-screen -5mm transport to the 3rd vibrating screen for further screening.  The product from the VSI sand-making machine is also transported to this vibrating screen by the same belt conveyor.
The 3rd vibrating screen will screen out 4 final products: 0-5mm, 5-10mm, 10-20mm, and 20-31mm.
0-5mm product directly flows to the spiral sand washing machine, then to the second washing machine — wheel washer. The washed product goes to a dewatering screen for drying, and after drying, it goes to the product pile.
When configuring equipment for marble crushing production lines, we suggest considering factors such as raw material size, production demand, discharge requirements, site, and funding. A complete scientific and reasonable configuration stone-production line will achieve a good operating effect and considerable economic benefits. JXSC Mine Machinery Factory provides all types of stone crushers and sand-making equipment, and all mining machines accept customization. Welcome to inquire!