Feldspar belongs to the monoclinic system, with flesh red, yellow, and white colors. Its Mohs hardness is about 6, making it a higher-hardness mineral. Therefore, it is very effective in making machine-made sand. Moreover, feldspar has abundant natural resources, and making machine-made sand will effectively alleviate the demand gap for aggregates in the market. Aggregate is one of the essential materials in the infrastructure industry. Due to the increasing scarcity of river sand resources, machine-made sand with abundant raw materials is gradually occupying the market and replacing natural sand in the infrastructure industry. Feldspar is suitable for making sand and excellent building sand aggregates, which meet the demand for sand in infrastructure construction such as high-speed railways, highways, airports, and bridges.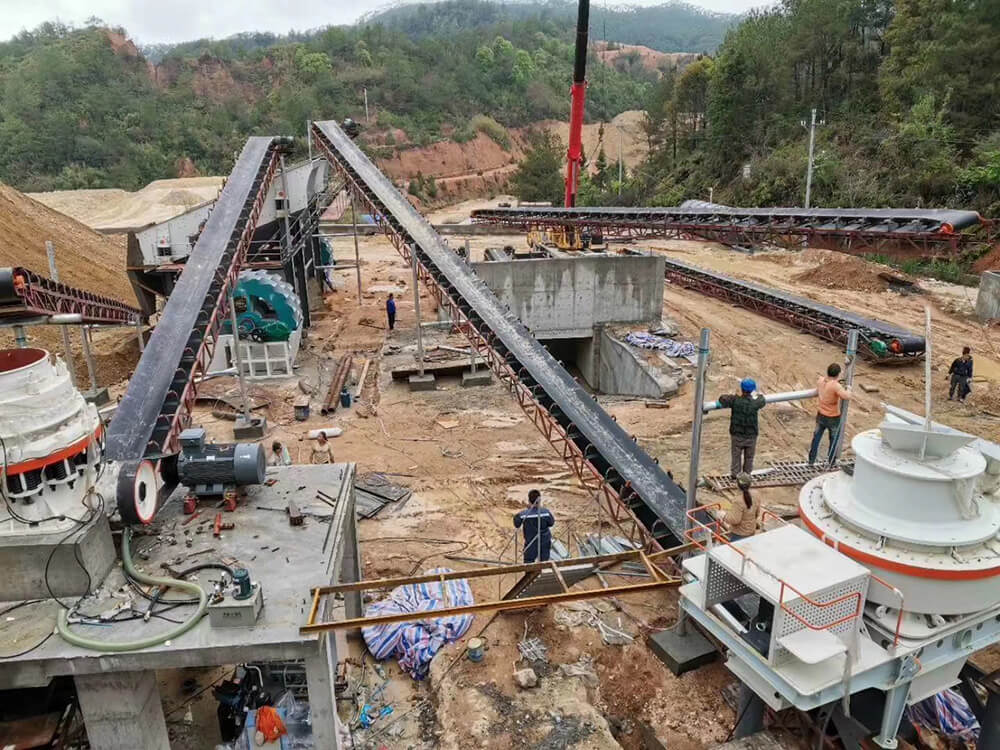 Feldspar Crushing Equipment
The stone sand-making process needs sand-making equipment. Due to the nature of feldspar with high hardness, it usually chooses sand-making equipment like jaw crushers, cone crushers, and impact sand-making machines, which are suitable for processing high-hardness materials. The introduction of the equipment is as follows:
The jaw crusher is mainly for coarse crushing of large feldspar. As long as the feldspar is not bigger than 1200mm, it can be put directly into the jaw crusher for crushing, and the finished product specification is 10-350mm. The jaw crusher consists of movable and fixed jaw plates as its core components, which complete the crushing and processing of ores through compression and splitting. The production capacity is strong, and according to different models, the hourly processing capacity is between 1-1100 tons.
Advantages
The overall jaw crusher structure has high rigidity and good stability.
Large crushing ratio and uniform particle size.
Simple structure and low operating cost.
The cone crusher is for the intermediate crushing of materials after the jaw crusher, and the feeding particle size range is between 35-300mm. There are various types of crushing cavities in cone crusher, and the crushing capacity of different cavity types varies, and the production of standard models is relatively high; The detection function of the device start with one click, with a high degree of intelligence, simple and convenient operation; When crushing high hardness materials, the wear rate of vulnerable parts speed is not very fast, which effectively extend the service life of the equipment and save operating costs.
Advantages:
Higher production capacity with better quality.
Due to the safety device, reduce the downtime.
Provide a spring-type protective system.
It is equipped with a complete lubrication device, and will automatically shut down when there is excessive temperature or slow flow rate.
The internal structure has good sealing performance, which protects the equipment from dust and other small particles.
Long service life and strong applicability.
Vertical shaft Impact crusher
An impact-type sand-making machine is ideal equipment for finely crushing and shaping feldspar. The stone hit stone and stone hit iron working principles make the finished product with uniform particles, a good appearance, and a three-dimensional shape, which meet the high-grade sand and stone standards and the sand requirements for high-grade buildings. It has a wide application in the construction industry with characteristics of simple structure, green environmental protection, durability, energy conservation, and high production capacity.
Advantages:
High crushing efficiency, with fine crushing and coarse grinding functions.
Simple structure, convenient installation and maintenance, and low operating cost.
Strong ability for crushing materials, less affected by material moisture content, with a working moisture content of up to 8%.
The product has excellent particle shape, is cubic, and has a low content of needle-like flakes. It is suitable for aggregate shaping, artificial sand making, and high-grade highway aggregate production.
In addition to the three crushing equipment mentioned above, the crushing and sand-making process of feldspar stone also requires some auxiliary equipment for production, such as vibrating feeders, belt conveyors, screening machines, etc.
Feldspar Processing Plant Flow
Because stone crushers generally do not have screening functions, there will be a vibrating screen for screening the finished materials. It is usually a linear vibrating screen or a circular vibrating screen with different layers. A linear vibrating screen will divide the final material into three various specifications.
The feldspar material uniformly feeds into the jaw crusher through a vibrating feeder for primary coarse crushing processing;
The coarse aggregate after feldspar crushing will go through a belt conveyor to a linear vibrating screen for grading treatment, and unqualified loose stones are sent back to the upper level by a belt conveyor for further crushing;
After screening, it goes to an energy-saving vertical impact sand-making machine for sand production. The materials for the first sand production go to a linear vibrating screen for screening, and after screening and meeting the requirements, they go to the finished product area.
Advantages of feldspar sand production line
Durable and wear-resistant with low cost: less wear, wear-resistant parts, long replacement cycle, and reduced equipment maintenance costs.
Round particle shape and excellent quality: The finished aggregate has excellent quality, and the equipment is an energy-saving vertical impact sand-making machine. It is formed in one crushing process, simplifying the operating process, and ensuring that the finished aggregate grading is reasonable, the particle shape is round, the fineness modulus is adjustable, and the overall quality is better, fully meeting the highway material standards.
Investment saving and production capacity meeting standards: The feldspar sand production line is designed with high production capacity and low investment, reasonable equipment configuration, and scientific design, effectively reducing equipment investment and civil engineering costs.
Imported components, brand bearings: Select imported wear-resistant and high-temperature resistant core components, brand bearings, and high-protection motors.
Less investment and a machine with high practicality: Choosing small equipment will reduce investment costs and achieve high production efficiency while ensuring good quality of finished materials.
In addition to making sand, feldspar is also suitable forgrinding into feldspar powder for producing ceramic, glass products, etc.
The feldspar grinding processing equipment includes a jaw crusher, grinding machine host, bucket elevator, electromagnetic feeder, analysis machine, fan, etc. Among them, grinding equipment and jaw crushers are the major equipment, while others are auxiliary equipment. A complete production line is not composed of a single processing machine, but multiple pieces of equipment working together to form a complete set processing production line.
Feldspar grinding equipment
After calcination, blocky feldspar goes into the fine crushing equipment. After crushing, it enters the reserve material bin through a bucket elevator and is transported to the mill host through an electromagnetic vibration feeder for grinding processing. The products after grinding are driven by high-pressure airflow and sorted by a powder concentrator. Qualified products are sent through pipelines to the powder collector for collection, while unqualified ones return to the grinding machine for regrinding.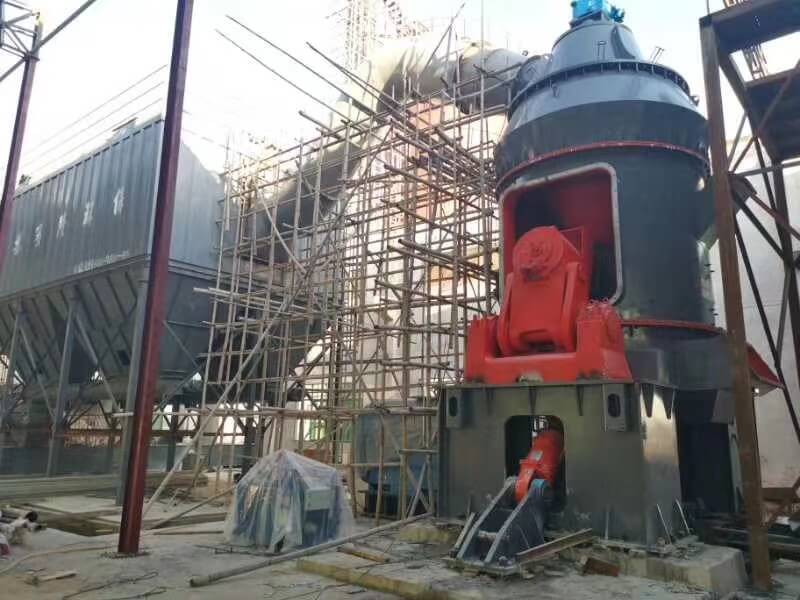 Performance advantages of feldspar grinding machine
The complete set equipment has good production performance, and independently forms a production system from block materials to finished powder, without the help of other equipment.
Good sealing. The transmission device adopts a sealed gearbox and pulley, making the transmission of the equipment more stable and safe with reliable operation;
The core components adopt good steel, and the wear-resistant parts are made of high-performance wear-resistant materials, which improves the wear resistance of the entire machine and prolongs the service life of the equipment;
The electrical system has strong centralized control ability and achieves unmanned operation, which not only reduces manual labor intensity but also reduces payment costs;
Installation and maintenance are more convenient, with professional installation and maintenance tools, which will reduce equipment installation and maintenance time.
Feldspar is suitable for both sand-making and mineral processing, with a wide range of applications. Different processing purposes will decide which equipment to use. JXSC Mine Machinery Factory provides all types of stone crushers and sand-making equipment, and all crushers accept customization. Any mining machines you need, warm welcome to inquire. Contact us online to get the factory price!