Bluestone is a raw material for aggregate and sand, with high hardness and wear resistance. It is a building and chemical raw material. Bluestone crushers are suitable for crushing various brittle and hard rock ores with compressive strength not exceeding 300MPa. It is mainly for intermediate and fine crushing of various medium and hard rock ores in industrial sectors such as metallurgy, mining, chemical engineering, cement, construction, fire-resistant materials, and ceramics.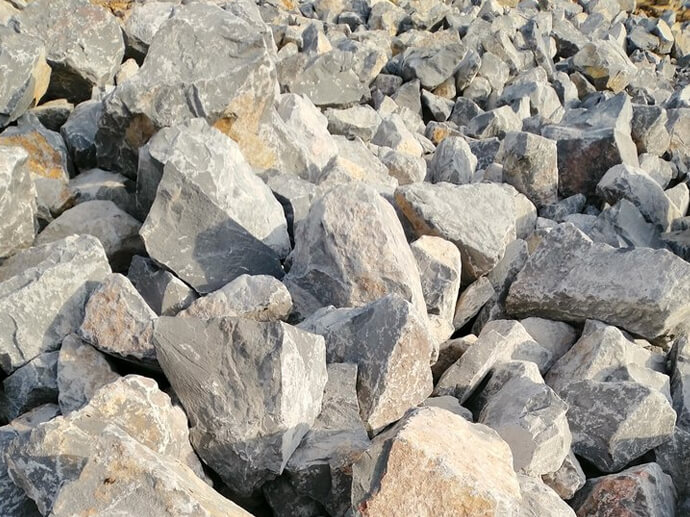 The Advantages of blue stone making sand
Low production cost and considerable profits: Bluestone has a short formation time with abundant resources in nature, and the price of it is low. With only crushing and sand-making equipment, it can be processed into different specifications of sand and stone aggregates, widely used in various construction projects, and the price of finished sand products is relatively high, resulting in considerable profits.
Moderate hardness and pollution-free: Qingshi is a gray or grayish-white sedimentary rock generated in the Haihu Basin, mainly composed of calcium carbonate, non-radiative, and non-pollution, and belongs to the category of green stone; The hardness coefficient is f=4-6, which fully meets the standard for building sand and is a high-quality raw material used for sand making producing machine.
Easy to bond sand and gravel aggregates with cement slurry: Generally, stones which are too hard or too soft are not easy to make sand, while bluestone has a moderate hardness, making it easier to bond sand and gravel aggregates with cement slurry.
When choosing machines for crushing bluestone, we need to notice multiple factors and select equipment with strong wear resistance, stability, and reliability. So what equipment is suitable for crushing bluestone?
Blue Stone Crushing Equipment
Before configuring the equipment, firstly, we need to consider the material characteristics, material size, and other factors.
It is a coarse crushing equipment that can handle large blocks of materials, with good crushing effect, large output, adjustable discharge particle size, and the principle of squeezing crushing. It is suitable for crushing high-hardness materials and wear-resistant parts, making it a good choice for crushing coarse bluestone.
Impact Crusher
The impact crusher has a high degree of uniformity in the discharge of materials, presenting a cubic shape with good particle shape. There is currently a popular bluestone crusher available. It is the vortex impact crusher design with a unique vortex crushing chamber, and P, S, and T three-stage crushing zone, to achieve strong vortex flow impact crushing. Therefore, the equipment has a larger feeding particle size and higher production capacity. The particle size is adjustable.
Cone crusher
The cone crusher also utilizes the squeeze-crushing principle to crush large stones into small stones. The cone crusher is an advanced, high-power, high crushing ratio, and high-productivity hydraulic cone crusher, which is suitable for crushing materials with high hardness.
VSI crusher
VSI crusher is for sand making and crushing of materials. It has a large output, excellent finished product particle shape, low powder and impurity content, and adjustable discharge particle size to meet the needs of different users.
Hammer crusher
Hammer crushers are a common stone crushing equipment in the mining industry, which completes the crushing of materials through impact, with a high crushing ratio and convenient operation. It is a blue stone crusher that can achieve one-time molding without secondary crushing.
Blue Stone Crushing Production Line Flow
The vibrating feeding machine screens the impurities in the raw materials before crushing them. Then continuously and evenly feeds the materials into the jaw crusher. The jaw crusher roughly crushes the large blue stones, and the qualified materials will screen out through the vibrating screen. The belt conveyor sends them into the secondary crushing equipment for intermediate and fine crushing. The impact crusher utilizes the principle of impact crushing, and the finished product has a good particle shape. After secondary crushing, qualified materials will screen out by a vibrating screen, then transport to the final product pile by a conveyor. This process is the entire bluestone-crushing operation.
Solutions
The operation effect of the bluestone-crushing production line mainly depends on the configuration of the entire production line equipment. Reasonable and standardized production line configuration based on the actual situation will improve the operation efficiency to get a better-finished product and meet the construction material standards.
Solution 1: Configuration of conventional bluestone crushing production line
Vibrating feeder+jaw crusher+impact crusher+vibrating screen+conveyor
Solution 2: configuration of a one-step molding bluestone crushing production line
Vibrating feeder+heavy hammer crusher+vibrating screen+conveyor
Solution 3: Mobile Blue Stone Crushing Production Line
Crawler-type mobile bluestone crusher or wheel-type mobile bluestone crusher, according to the actual needs of users to configure the machines. The mobile crusher is more flexible and equipped with other equipment. It is in conjunction with equipment such as jaw crushers and impact crushers. As long as the stone crusher fits on the mobile frame,  the complete set machine can work together to get the final product. Moreover, it is more convenient to move and can directly drive to the work site, reducing material transportation costs and saving investment costs. Choosing a mobile-type blue stone crusher for aggregate with high overall efficiency.
200tph Blue Stone Crushing Plant
This flow chart is for a 200tph blue stone crushing plant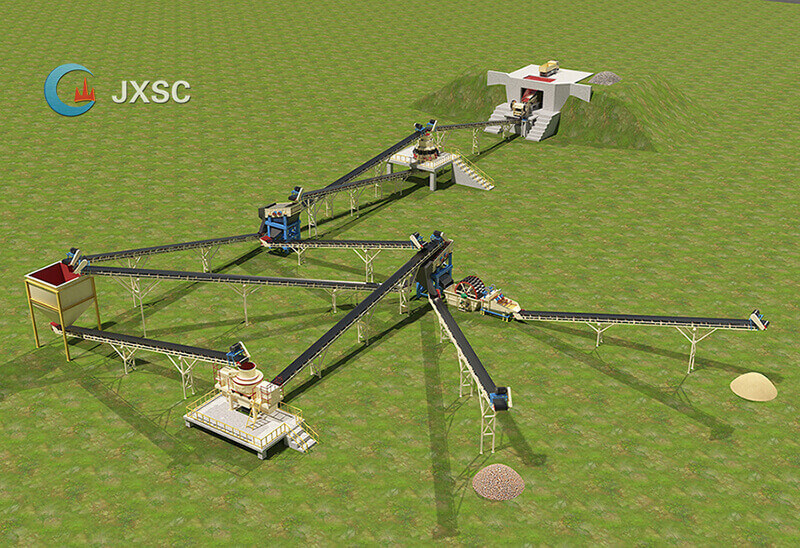 The blue stone first transports by truck to Hopper, and then the material falls into a vibrating feeder( DN590*110 )because of the height difference.
The vibrating feeder transports the material to the jaw crusher(PE-750*1060) for the first crushing.
After first crushing, the output from the jaw crusher is transferred to the secondary crushing machine compound cone crusher(DN1400) by belt conveyor to get a smaller size.
Then the smaller size material goes to the double-layers vibrating screen(2YD2160) to get 3 product, screen mesh size 35mm and 5mm, the first size over 35mm go back to the cone crusher for crushing to a small size, and the second middle size 5-35mm material transport to the transit hopper by belt conveyor to sand making machine (DN9000)to get fine material and transport to second vibrating screen(2YD2470), and third size 0-5mm material transport to second vibrating screen(2YD2470).
When the material gets to the second vibrating screen(2YD2470). The mesh size is 10mm and 5mm, and the material size over 10mm goes back to the transit hopper to sand making machine(DN9000), the 5-10mm material goes to the first output product, the second output 0-5mm material goes to the sand washing machine to get a clean product. And final get output size 0-5mm,5-10mm.
The flow chart also accept customization according to the client's requirements.
A standardized and reasonable configuration plan for the bluestone crushing production line must scientifically and reasonably combine with actual production capacity requirements, feeding particle size, finished product specifications, and operating site conditions, to fully utilize the value of equipment in each link and create higher profits. JXSC Mine Machinery Factory provides all types of stone crushers and sand-making equipment, and all crushers accept customization. Welcome to inquire!