62.5TPH Gravel Plant Information
Ore Location: Kenya
Crushed Raw Material: Hardstone
Capacity: 62.5TPH
Feeding Size: 500mm
Output Size: 0-2.5mm, 2.5-5mm
Kenya 62.5TPH gravel plant flow chart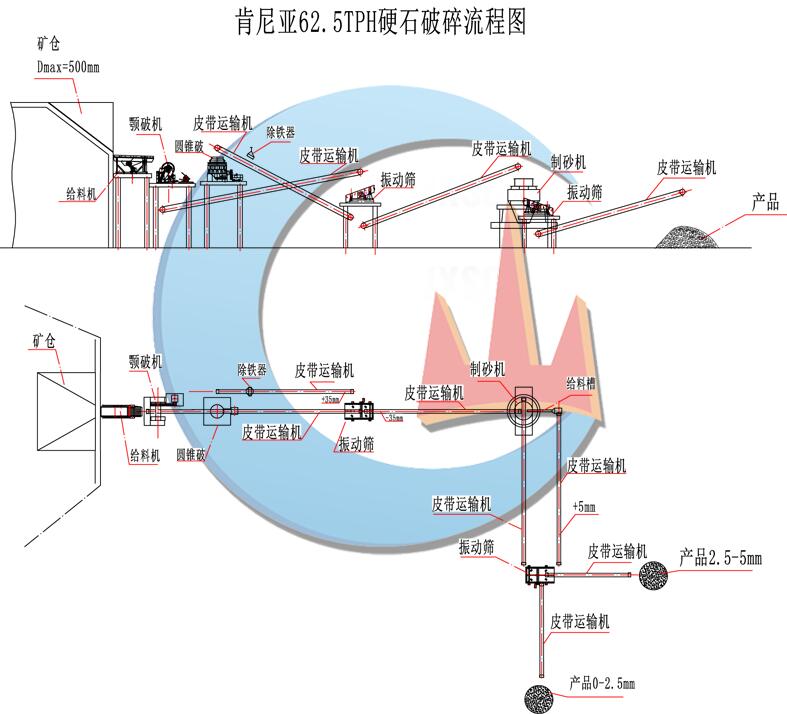 This plant equipment list
1.vibrating feeder
2. jaw crusher
3. cone crusher
4. sand making machine
5. vibrating screen
6. conveyor belt
7. iron separator machine
Contact us to get price
Sand and Gravel Processing Plant
The vibrating feeder equipment feeds the 500mm raw stone into jaw crusher for primary crushing. The cone crusher as a secondary crusher to crushing again that the rock materials are crushed to two kind sizes crushed stone. one size smaller than 35mm which transport to sand making machine for fine crushing. Another is larger than 35mm which transports to cone rock crusher for circular crushing. The sand maker crushing the stone particles to three kind sizes, 0-2.5mm, 2.5-5mm, and larger than 5mm. The sand and gravel that 0-2.5mm, 2.5-5mm are finished production. The 5mm crushed gravels are conveyed to sand making machine again for secondary crushing.
What is iron separator machine
Iron separator is a device that produces strong magnetic field attraction. It removes ferromagnetic impurities from materials that ensure the crusher machine, grinding mill and other mechanical equipment safely and normally work in the conveying system. At the same time, it can effectively prevent large, long pieces of iron split conveyor belt accident and significantly improve the quality of raw materials. Then iron remover is widely used in the industries of metallurgy, mine, coal preparation plant, power plant, ceramics, glass, cement, building materials, chemical industry, food, and feed processing. In the emerging waste treatment industry, it also needs to use an iron separator to recover the steel in the waste.
Principle: When the bulk materials transported by belt conveyor passing through the magnetic separator which installs on the rear bracket, the ferromagnetic impurities in the material are sucked. Then the ferromagnetic impurities are dragged to the electric roller by the discarded iron tape which achieves the goal of automatic iron removal.
Notes:
1. Services (installation, test run, training):
The supplier can provide basic drawings and schematic drawings of equipment installation. The domestic technicians will be provided for free to guide installation and debugging, and the buyer will provide technicians with room and board. The buyer shall prepare the necessary auxiliary materials for installation.
2. Quality guarantee:
The equipment is guaranteed for one year. In the warranty period, due to the quality of the product manufacturing, manufacturers free warranty (except wearing parts).