River pebble is a hard stone with features of high wear-resistant and chemically stable silicate mineral. In nature, river pebble ore after crushing, sand making, and screening to produce river pebble sand. River pebble sand is an important industrial raw material, it has wide applications in engineering, such as water conservancy and hydropower, high-grade highways, highways, high-speed railways, railway lines for passenger traffic, bridges, airport runways, municipal engineering, mechanical sand production, and stone shaping for high-rise buildings. River pebble sand is also widely used as aggregate for concrete. Due to the convenient mining of river pebbles, high quality, and green, environmentally friendly stones in infrastructure facilities, river pebble plays a significant role in infrastructure projects. In addition, there is currently a short supply in some regional markets, so the price of river pebbles keeps increasing.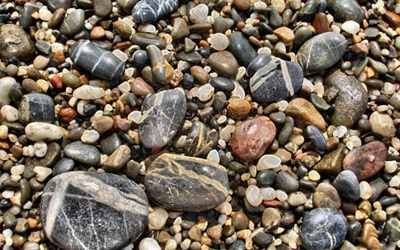 How To Choose The Right Equipment for River Pebble Sand Making?
When choosing sand-making equipment, we first need to check the properties of raw material, including the material input size, and the proportion of different size materials. Because stone materials vary from place to place, it is important to choose appropriate sand-making and washing equipment based on the specific properties of the raw materials.
Secondly, the stone feeding machine, crushing machine, and screening equipment should cooperate, which means the crushing production capacity and conveying capacity before and after the equipment should be consistent. Each level of crushing equipment should achieve equal output, conveyor capacity, and crushing speed to save expenses and obtain better economic benefits with small investment costs, it requires the working staff to have a good understanding of the site, stone size ratio, etc.
Thirdly, purchasing the complete set feeding, crushing, and screening machine would be better. The configuration of the sand production line equipment is the same as when we choose electronic products. The original matching equipment is always more suitable than others, and for the same quality, the firsthand price is more affordable, and the equipment is more durable.
Finally, it is crucial to consider the financial budget for the equipment. The same production line and different equipment have significant price differences. Generally, high prices sand-making production equipment are more suitable for enterprises with large sand production capacity, and such complete sets of equipment have relatively low operating costs. If the enterprise has a relatively small budget, it can choose some equipment with slightly lower performance according to the actual situation. Although the operating cost is high, it can not only meet the production needs of the enterprise but also avoid financial constraints, making it a better choice for some small and medium-sized enterprises.
River Pebble Process Flow
There are various types of equipment in the gravel sand production line for choices, including jaw crushers, cone crushers, sand-making machines, and feeding, screening, and conveying equipment. The equipment configuration of the pebble sand production line shall be confirmed according to the requirements of raw material's hardness, production capacity, finished sand, etc. The river pebble production plant adopts the configuration principle of more crushing and less grinding, with high work efficiency and good discharge. Combined with cleaning treatment, it can quickly produce clean sand.
The large materials of river pebbles are uniformly fed by a vibrating feeder through the silo and transported to a jaw crusher for coarse crushing;
The coarse crushed material is screened by a vibrating screen and then transported by a belt conveyor to the cone crusher for medium to fine crushing;
After fine crushing, the circular vibrating screen will screen the material, and materials larger than or equal to 40mm will return to the cone crusher for further crushing
River pebble particles smaller than 40mm go to the sand-making machine for further crushing and shaping, and materials larger than or equal to 20mm return to the sand-making machinery for further fine crushing;
Materials smaller than 20mm are sent to a circular vibrating screen for screening and packaging. If the sand needs cleaning, we can add a sand washing machine.
Features of River Pebble Sand Production Line  
The river pebble production line has undergone scientific planning and significant improvements in discharge efficiency and sand quality. Compared to old-fashioned production lines, it is more energy-efficient and high-yield.
The finished sand and gravel are excellent, and the particle size distribution is very reasonable.
The finished product of sand and stone design with reasonable configuration, the material are cubic shape with excellent quality. The content of needle and sheet-shaped products is low, and this production plan has strong compression resistance. The finished product can completely replace natural sand and the current high-standard construction sand, such as in industries such as bridges, water conservancy, high-grade highways, and high-rise buildings;
Reduce costs, increase working efficiency, and save energy in the system
With high production and low consumption, this plan is equipped with a new VSI sand making machine, with the upgrade of the body structure, making production more scientific and reasonable. Compared to the general sand-making production system, the system's production capacity is increased by 30%, while greatly reducing operating costs;
Short probationary period, long usage period, and high return on close cooperation.
The sand-making equipment is reasonably configured, with a short break-in period, longer effective work service period, and high return on production.
200TPH River Pebble Sand Making Plant
This setup is a 200tph river pebble sand-making plant, the material is river pebble, the input size is 0-630mm and output sizes are 0-5mm, 5-15mm, 15-31.5mm.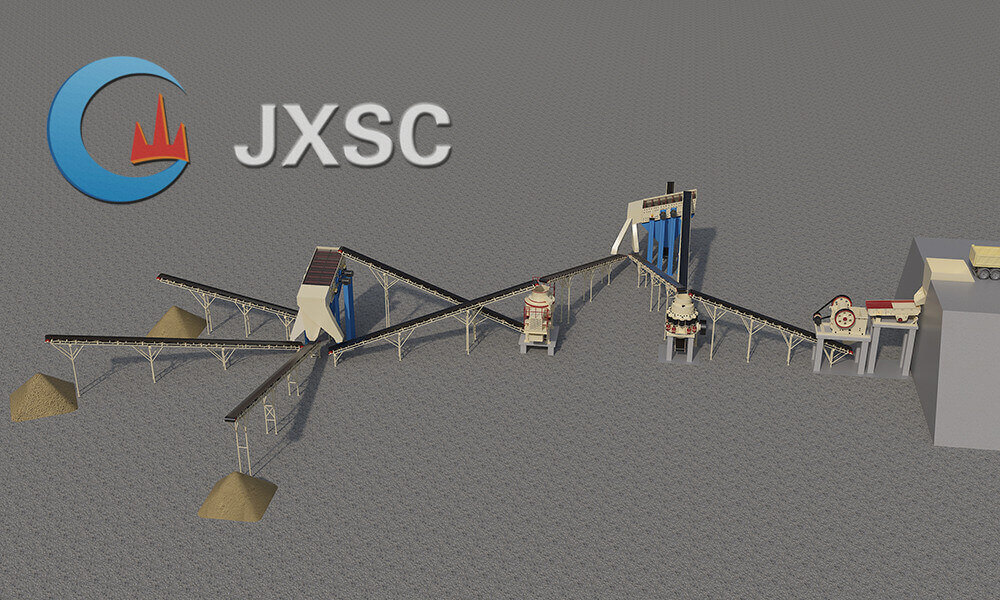 It configures with a hopper, vibrating feeder DN4911, primary jaw crusher PE-750*1060, cone crusher DN1400, vibrating screen 2YD2160, VSI DN9000, 3-layer vibrating screen 3YD2160, and belt conveyors.
The truck unloads the stones into the hopper, and the stone enters the vibrating feeder from the lower part of the hopper;
The vibrating feeder feeds the stones evenly to the primary jaw crusher;
The crushed output materials from the primary jaw crusher will be transported to the secondary cone crusher by a belt conveyor;
The materials from the secondary cone crusher will transfer to the two-layer vibrating screen;
After screening by the two-layer vibrating screen, there will get 0-5mm, 5-35mm, and +35mm materials. 0-5mm materials will go to stockpile by a belt conveyor, 5-35mm materials will go to VSI Crusher, and +35 materials will transport back to the cone crusher for re-crushing.
5-35mm materials will be crushed and shaped by a VSI crusher, and the materials over 35mm will transport to the second vibrating screen;
After the screening, we will get 0-5mm, 5-15mm, and 15-31.5mm materials, and the +31.5mm materials will transport back to the VSI crusher.
The role of the VSI crusher in this setup is to produce high-standard output materials for mixing stations, asphalt stations, etc.

This crushing plant is suitable for processing many kinds of hard stones, like basalt, pebbles, granite, diabase, etc.

The capacity for this crushing plant accepts customization, such as 50tph, 100tph, 200tph, etc.
If the raw material size of river pebbles is large and the finished product quality is high, we can choose a jaw crusher as a coarse crusher, and a pebble sand-making machine as a fine crusher. The jaw crusher has a high crushing ratio and high compressive strength. The river pebble sand-making machine is for further crushing of river pebbles. In addition to a vertical shaft river pebble sand-making machine, it needs to equip with a vibrating feeder, conveyor belt, vibrating screen, electric control device, dust removal, and noise reduction equipment. When the raw material size of the river pebble is small, the budget is limited, and the quality requirements for the finished product are not high, a vertical shaft sand-making machine can use as the core sand-making machine. The vertical shaft sand-making machine has the advantages of high production capacity and affordable price and has become the ideal equipment for many users. JXSC Mine Machinery Factory provides all types of stone crushers and sand-making equipment, and all crushers accept customization. Welcome to inquire!