Quartz stone is a raw material with good wear resistance, with colors such as white, pink, yellow, etc. It has good thermoelectric properties, high-temperature resistance, and non-toxic properties. Quartz has high industrial utilization value and wide application in chemical engineering, construction, and building materials industries. In order to improve the comprehensive utilization rate of the quartz stone, there will need to process it. The quartz sand-making machine is a customized equipment for quartz stone processing, which has good sand-making ability. Quartz stone is a high-performance raw material for machine-made sand. After the sand-making crushing process, quartz stone becomes quartz sand used in multiple industries. It not only has a wide range of uses but also has considerable profits and investment value. More and more people are joining this business.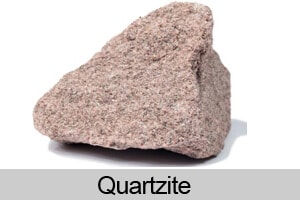 Quartz Crushing Equipment(Quartz Sand Making Machine)
Coarse crushing stage – jaw crusher
First, crush the large quartz stone into small pieces with a primary jaw crusher to crush 1200mm quartz stone to 1-350mm. The jaw crusher has the characteristics of a high crushing ratio and high processing capacity. The hourly production range is between 2-1200 tons, which meets various production needs of customers.
Second crushing stage – cone crusher
Due to the high hardness of quartz stone, it is usually choose a cone crusher which is more suitable for the secondary crushing process. The cone crusher is for crushing stones with medium hardness or above, and its crushing efficiency is very high and reaches over 700 tons. Compared to other secondary crushers, cone crushers have a longer service life and are wear-resistant, although they are more expensive.
Sand-making stage – sand making machine
We can add a sand-making machine to the complete sand-making plant or not, it will depend on the actual processing requirement. If there is a high requirement for the particle size of the finished quartz stone, after the second crushing cone crusher, add a sand-making machine to perform fine crushing and sand-making treatment. After being processed by a sand-making machine, the finished quartz stone has a good particle shape with a cubic shape, without cracks.
Sand washing stage – sand washing machine
Choose sand-washing machines and sand-making machines based on actual needs. If you have high requirements for product quality, then add sand-washing equipment after the sand-making process. After cleaning, the washed-finished quartz sand is clean and flawless, with higher sand quality. So the final sand product will sell for a better price.
Various auxiliary equipment
In addition to the processing equipment mentioned above, some auxiliary equipment is essential in quartz stone processing, such as a vibrating feeder, vibrating screen, belt conveyor, etc. Various auxiliary equipment combine with the crushing equipment to form a complete quartz stone crushing production line. The entire crushing process is highly automated and flexible, which meets the production needs of different users.
Which equipment is better for producing high-quality quartz sand?
Choose the right sand-making equipment to make high-quality quartz sand. Currently, Two main types of equipment suitable for quartz sandmaking: fixed sand-making plants and mobile sand-making plants. Which quartz sand-making machine plant is better, a fixed one or a mobile one? It will depend on the working site condition.
Fixed Quartz Sand Making Plant And Mobile Quartz Sand Making Plant
If your work site is big enough, flat, and requires high production capacity, it is recommended to use a fixed quartz sand-making machine plant. Because quartz stone needs to go through coarse and medium crushing treatment before entering the fixed sand-making machine, The crushing machine needs piling for installation, and each piece of equipment is connected by a belt conveyor, requiring a large working site and high requirements for the working environment. However, although the installation of the fixed VSI sand making machine is more complicated, it operates more stably, and the entire sand making production line has stronger processing capabilities.
If your work site is small and the quartz stone piles are far apart, it is recommended to use a mobile quartz stone sand-making plant. Compared to a fixed sand-making plant, a mobile sand-making plant is equipment with good mobility, and does not require piling and installation. It can work on-site with a high degree of automation, which will reduce a certain amount of labor and transportation costs. The mobile quartz sand-making plant integrates crushing, screening, and sand-making equipment such as vibrating feeders, belt conveyors, screening machines, etc.
Types of quartz sand making machine
There are many types of crushing equipment for quartz sand production, among which HVI sand-making machines and VSI sand-making machines got good feedback. They have different operating principles and manufacturing processes, and the specific application environments will be different.
HVI sand-making machine
It is a new generation of sand-making equipment, with outstanding shaping effects and two principles of "stone hit stone" and "stone hit iron". It improves work efficiency and ensures the particle size of finished sand. The discharge size is adjustable. This equipment adopts a combination of throwing heads, which only need to replace worn ones will reduce usage costs by 30%, whether in terms of production technology or other aspects. It is superior to other sand-making equipment, so the price of it will also be slightly higher than other equipment.
VSI sand-making machine
VSI sand-making machine is also a popular product with a reasonable price, which is suitable for crushing hard stones. wear parts are very durable. The entire machine also uses the principle of stone and stone iron operation. Of course, this equipment also has a shaping effect, but it is slightly inferior to the HVI sand-making machine. It is a good choice for users who do not have strict requirements for the finished product.
200tph Aggregate quartz sand-making machine plant
This setup is a 200tph Aggregate quartz sand-making plant in Ghana. The raw material is quartz. the input size is 0-630mm, and the output sizes are 0-5mm, 5-15mm, and 15-31.5mm.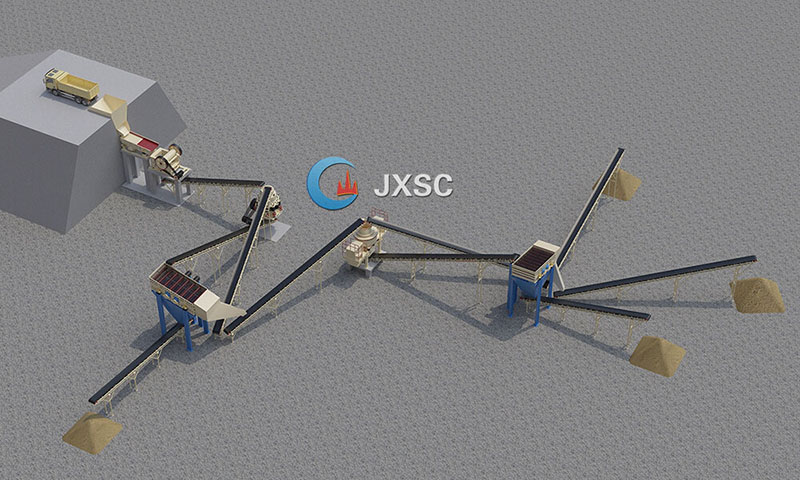 It consists of a hopper, vibrating feeder DN4911, primary jaw crusher PE-750*1060, cone crusher DN1400, vibrating screen 2YD2160, VSI DN9000 sand-making machine, 3-layer vibrating screen 3YD2160, and belt conveyors.
The truck unloads the stones into the hopper, and the stone enters the vibrating feeder from the lower part of the hopper.
The vibrating feeder feeds the stones evenly to the primary jaw crusher.
The crushed output materials from the primary jaw crusher go to the secondary cone crusher through a belt conveyor.
The crushed materials from the secondary cone crusher go to the two-layer vibrating screen.
After screening by the two-layer vibrating screen, 0-5mm, 5-35mm, +35mm materials, 0-5mm materials will go to a belt conveyor to stockpile, 5-35mm materials will go to the VSI sand-making machine, +35 materials will go back to cone crusher for re-crushing.
5-35mm materials will be crushed by a VSI crusher, and the output materials go to the second vibrating screen;
After the screening, we will get 0-5mm, 5-15mm, and 15-31.5mm materials. The +31.5mm materials will go back to the VSI crusher.
The VSI sand-making machine is to produce high-standard output materials for mixing stations, asphalt stations, etc.
This crushing plant is suitable for processing many kinds of hard stones, like basalt, pebbles, granite, diabase, etc. The capacity for this crushing plant accepts custom designs, like 50tph, 100tph, 200tph, etc.
Different input material sizes, processing capacities, and final product sizes require different crushing machines. The price of the stone crusher will determined by the manufacturer's type, model, manufacturing process capacity, etc. We can provide various mining equipment include lab machines and large stone crushers, etc. Welcome to consult JXSC's professional engineers to get the quotation based on your requirements. We will design a sand-making and crushing production line flow chart for you.