Overview
spiral concentrator http://youtu.be/Wc3rBi0ty_k
Brief Introduction of lab spiral chute machine:
Laboratory spiral Chute separator is made of Glass Fiber Reinforced Plastic Spiral Chute, spiral chute separator is applicable for separation of 0.3-0.02 mmfine-grained ( including micro-grained ) metallic minerals such as iron, ilmenite ,chromite, tungsten-tin ore, niobium-tantalum ore, gold placer, seashore monazite, rutile and zircon as well as other metallic and non-metallic minerals with adequate difference of specific gravity.
The effective range of separation of size fractions: for the chutes ofΦ600,Φ400, separation of size fraction ≤0.03 mm; for roughing , cleaning and scavenging, spiral chute should selected in response to their respective parameters.
Main Structure of lab spiral chute machine:
The glass fiber reinforced plastic spiral chute consists of feeding equipartition device, feed chute, spiral slice, product intercepting trough, feeding hopper, and trough support.
Features of lab spiral chute :
--Stable structure, Easy set up
--High recovery ratio, high efficiency
--Light in weight, Small space
--Rust and corrosion resistant
--Simple maintenance , long working life
--Precise separation, Low operating cost
--Reliable running with minimal operator attention
--High adaptability to fluctuation of feeding amount, density, size and grade.
working principle of lab spiral chute, lab sprial chute separator :
1.The separating materials are fed to each feed chute through the feeding equipartition device.
2.slowly flow into each chute for separation.
3.The valve block at the end of the spiral chute divides the already separated ore flow into several types (such as concentrate, middling, minor middling, and tailing) according to grades
Packing Pictures for lab spiral chute price, lab sprial chute separator :
Detail pictures of small lab spiral chute separator :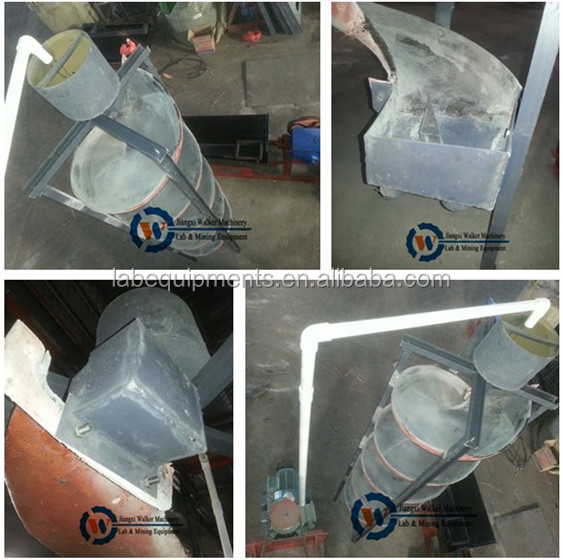 The small lab spiral chute separator can operate with small lab shaking table and mixing tank as a complete set lab mineral processing separator , please check below pictures:
Specifications
Specifications of lab spiral chute price, lab sprial chute separator :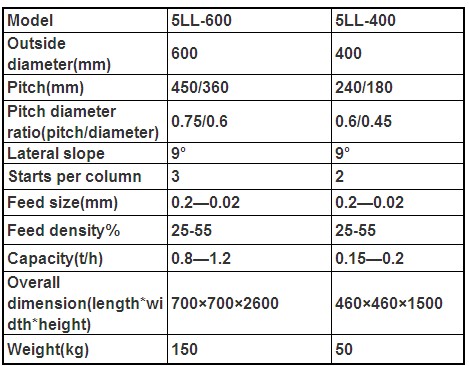 Client Site
lab machine showroom: http://youtu.be/VnDrpS6NQO0
Inquiry
Please enter your demand such as Raw material type, Capacity, Feeding material size, Final product size. To become our quality clients will have access to a 2%-10% discount of contract!